---
DIPS Worksheets!
---
---
January 2001
April 2003
May 2003
June 2003
July 2003
August 2003
September 2003
October 2003
November 2003
December 2003
January 2004
February 2004
March 2004
April 2004
May 2004
June 2004
July 2004
August 2004
September 2004
October 2004
November 2004
December 2004
January 2005
February 2005
March 2005
April 2005
May 2005
June 2005
July 2005
August 2005
September 2005
October 2005
November 2005
December 2005
January 2006
February 2006
March 2006
April 2006
May 2006
June 2006
July 2006
August 2006
September 2006
October 2006
November 2006
December 2006
January 2007
February 2007
March 2007
April 2007
May 2007
---
LINKS
---
Yankees Sites and Columnists
Nomaas.org
---
General Baseball Sites & Columnists
At Home Plate
Rotoauthority.com
The Book Blog - Playing the Percentages in Baseball(Tango, MGL, Dolphin)
---
Yankees Blogs
Almost Perfect
Baby Bombers
Baseball Mania
Bronx Banter
Bugs and Cranks
Canyon of Heroes
Dugout News
Eephus Pitch
Here Comes Number 27
High and Tight
Lohud Yankees Blog
No Sense Worrying
Pinstripe Potentials
River Ave. Blues
Soft Hands
The Stat Boy of the Empire
Was Watching
Yankees Chick
Yankees Fans in Foreign Lands
Yanks Blog
---
Other Team Blogs
Anaheim Angels All the Way
Bucco Blog
San Francisco Giants Blog
Viva El Birdos
---
Look what people have to say about Larry Mahnken's commentary!
"Larry, can you be any more of a Yankee apologist?.... Just look past your Yankee myopia and try some objectivity."
- Bernal Diaz
"Mr. Mahnken is enlightened."
- cordially, as always,
rm
"Wow, Larry. You've produced 25% of the comments on this thread and said nothing meaningful. That's impressive, even for you."
- Anonymous
"After reading all your postings and daily weblog...I believe you have truly become the Phil Pepe of this generation. Now this is not necessarily a good thing."
- Repoz
"you blog sucks, it reeds as it was written by the queer son of mike lupica and roids clemens. i could write a better column by letting a monkey fuk a typewriter. i dont need no 181 million dollar team to write a blog fukkk the spankeees"
- yan
"i think his followers have a different sexual preference than most men"
- bob
"Boring and predictable."
- No Guru No Method
"Are you the biggest idiot ever?"
- Randal
"I'm not qualified to write for online media, let alone mainstream media."
- Larry Mahnken
---
This site is best viewed with a monitor.
Disclaimer: If you think this is the official website of the New York Yankees, you're an idiot. Go away.
January 31, 2005
---
by SG
This is part 1 of a collaborative three part retrospective on the career of Randy Johnson. Erik will be writing part 2 and sjohnny will be writing part 3.

1982
Randy Johnson was a senior at Livermore High School in 1982. Standing 6'10" but only weighing 185 pounds, he threw as hard as 92 mph but had very little control of his body.

In 2000, in an interview with Guidepost for Kids mentioned in this article, Johnson describes this period as an awkward adolescence.

"I was a little uncoordinated in high school because I was growing so fast. I was so much taller than everybody else, I didn't know how to handle it. Other teams would yell at me on the mound to get me rattled--and it worked. I'd throw harder and get wild and start to walk guys and get taken out of the game."

"It's hard to mix with a crowd when you're walking down the hallway and everybody else is a foot shorter," Johnson said. "I remember hanging out with my friends, like at the mall, and thinking people were staring at me and talking about me. It made me
turn inside myself. I became more shy and quiet."

Luckily for Johnson, his parents were there to support him through what was a difficult adolescence. He would play catch for hours with his father, Bud. When Randy would miss his father's glove, Bud would gently tell his son to retrieve the balls. These games of catch helped Johnson improve his control. Eventually, when Randy began picking up velocity, his throws would shift the slats in the garage door, His dad would smile, hand him a hammer and have him fix them.

One scout's opinion on Johnson in high school: "Timid due to awkwardness and plenty of room to fill out. No concept yet, just a thrower. He's like a box of crackerjacks, there's a surprise inside. Our only problem is whether or not we will like the surprise. He's a boom or bust. Long way to go yet. Has no pitching mechanics. With his long arms he could eventually bury all left-handed hitters. A real gamble."

Johnson's talent did allow him to pitch a perfect game in his final high school start.Johnson got drafted by the Braves in the third round of the 1982 amateur draft. However, his high school coach, Eric Hoff, persuaded him to go to the University of Southern California instead. "I just thought he'd get eaten up in the minor leagues," Hoff said. "He didn't have the maturity level at that time."

1983-1985
Johnson attended the University of Southern California on a dual scholarship for basketball and baseball, but decided to concentrate on baseball after his sophomore season. Johnson's college teammate, Mark McGwire, was often considered the better pitching prospect while they were with the Trojans.

A picture of Johnson at USC

Johnson's college statistics at USC were far from overwhelming.


            G     IP     H    BB   SO   W-L   SV     ERA
1983       15   47.0    46    32   34   5-0    3    5.17
1984       26   78.0    72    52   73   5-3    2    3.35
1985       26  118.1   107   104   99   6-9    0    5.32

Career     67  243.1   225   188  206  16-12   5    4.66  



Johnson also spent one summer in Alaska, pitching for the Anchorage Glacier Pilots.

Then came the 1985 draft. Johnson was drafted 36th, in the second round. Taken before Johnson were names like Mike Poehl, Chris Gwynn, Walt Weiss, Cameron Drew, Jeff Bumgarner, Tommy Greene, Willie Fraser, Trey McCall and several other players, many of whom never saw the majors.

Johnson signed and was assigned to the Jamestown Expos of the New York-Penn league, where he compiled an 0-3 record. In 27 innings, he allowed 29 hits, 22 runs, 24 walks, 21 strikeouts, and put up a 5.93 ERA.

1986
The following season, Johnson was moved to the next level in class A. In West Palm Beach, He put up an 8-7 record, in 26 starts. He pitched 120 innings, allowing 89 hits, 49 runs, 94 walks, 133 strikeouts and racking up a 3.16 ERA. A big improvement from the previous season, but still showing a lot of trouble throwing strikes.

1987
In 1987, Johnson was moved up again, this time to Jacksonville in class AA. There, he went 11-8, in 25 games. 140 innings, 100 hits, 63 runs, 128 walks, and 163 strikeouts, with a 3.73 ERA. He was still walking around 8 men per nine innings, but getting by striking out 10 men every nine innings.

1988
Now 25 years old, Johnson was promoted to the last level of the minors, AAA. For Indianapolis, Johnson made big strides with his control, cutting his BB rate by 2.5 men per nine innings. For the season, he went 8-7 with a 3.26 ERA in 20 starts, 113 innings, 85 hits, 52 runs, 72 walks, and 111 strikeouts. He led the league in balks with 20, which may have been indicative of his problems with concentration, which many blamed for his control. In early June of this season, Montreal had decided it was time to give Johnson his shot in the majors. However, on June 15, right before he was going to be recalled by the Expos, he was forced to leave a game against Richmond after knocking down a line drive with his pitching hand. A frustrated Johnson punched the bat rack with his right hand. As it turned out, his left hand was fine, but he broke his right hand. This ended up delaying Johnson's recall. However, Johnson finally made his major league debut on Sept 15, in a game against Pittsburgh. Johnson pitched five innings and allowed 2 runs, picking up his first major league victory. He finished the season in Montreal strong, winning 3 of his 4 starts and putting up a 2.42 ERA.

1989
With Johnson's impressive cup of coffee at the end of 1988, he began the season in the Montreal rotation in 1989. However, after an 0-4, 6.67 start he was sent to Triple-A Indianapolis. On May 25, with the Expos trailing the Cubs by 3 games in the standings, Johnson, Brian Holman, and Gene Harris were shipped to Seattle in a trade for ace lefty Mark Langston. Montreal would finish the season 12 games out of first, as Langston pitched well but got poor run support. Johnson was inserted into Seattle's starting rotation, and finished with a 7-9 record, and a 4.40 ERA for the Mariners.

1990
Prior to the season, THE SCOUTING REPORT had this to say about Johnson:

Some call him "Big Bird," his teammates call him "Big Unit" and by now, we all know that Randy Johnson is the tallest pitcher in major league history at 6'10". Johnson came to the Mariners along with Brian Holman and Gene Harris in the now famous "Langston Deal." Of the three pitchers Seattle obtained, Johnson was considered the best prospect. He was even rated a National League Rookie of the Year candidate, though he struggled with the Expos in his early '89 outings and had to be returned to the minors.
. . . Johnson has a reputation for blowing his cool -- as a Montreal farmhand he once punched a dugout wall, breaking his right hand -- and some feel that he loses his concentration too easily.
******
It's a toss-up between Holman and Johnson for the third and fourth spot in the Mariner rotation. Johnson is an important part of the Mariner future, but it's imperative that he improve his control and get his head together a little more.

Johnson showed a glimpse of his enormous potential on June 2, when he pitched the first no-hitter in Mariners history, walking 6 and striking out 8 in front of 20,114 fan in the Kingdome. Fifty of his pitches were clocked at 94 MPH or higher.On the season, Johnson was inconsistent, but managed to post a 14-11 record, with a 3.65 ERA.

1991
Following 1990, here was THE SCOUTING REPORT take on Randy:

A lot of baseball people have looked at Randy Johnson and proclaimed that if he ever puts it all together, look out. Last June 2 in the Kingdome, Johnson put it together and them some...
However, the other side of the big lefthander was also apparent on that no-hit night. Johnson walked six. Admirers later called him "constructively wild," meaning that the Tigers could not dig in at the plate. Maybe it worked that night, but most observers agree that Johnson's control is a big problem. His 120 walks led the majors.
******
Any team would allow Johnson his few quirks if he pitched up to his immense promise. Certainly he's got the stuff: a high-90s fastball, a sharp, downward curveball and a change-up. At times, he hits all the spots with his pitches and fulfills his desire to be recognized as a pitcher, not just a hard thrower. But Johnson has trouble winning on days when he doesn't have his good stuff. The tallest pitcher in major league history, he finds that his long delivery can easily get out of sync. When that happens, he's prone to walks and home run balls. Last year Johnson gave up 26 dingers, fourth most in the league.

Instead of building on a promising 1990, Johnson regressed in 1991. Despite some spectacular performances, he walked nearly 7 men per nine innings, and finished the season 13-10 with a 3.98 ERA.

1992
1992 started out where 1991 left off. Johnson alternated brilliant starts with disasters, including a memorable 10 BB in 4.1 inning performance against Baltimore.

Peter Gammons had an article about Scott Bradley, who was Johnson's personal catcher with the Mariners for more than 2½ seasons, which touched on this period in Johnson's life.

"He threw very hard," says Bradley, "but he was very wild and inconsistent. He'd launch balls up on the backstop, I guess sometimes for effect. Sometimes when he'd get to 3-and-0 he'd just fling the ball towards the plate, or the batter. He didn't have much confidence. He really was pretty insecure. So to see him now, so quietly confident and so remarkably under control and able to throw both his fastball and his slider for strike after strike is something that never fails to amaze me."

In a Bill Mazeroski baseball annual from the time, a scout was quoted about Johnson:

"If his stuff wasn't so great, you'd write him off. His concentration level and temper are big detriments to his stuff. More than once, I've seen him give up his first hit in the fourth or fifth inning and just quit, just come unglued, like 'The no-hitter's gone. What's the point?'"

However, 1992 turned out to be the turning point for Johnson. From an article about Johnson on At Home Plate:

"I used to be a thrower," he explains. "I struggled. I was leading the league in strikeouts, but I was also leading the league in walks."

One of two things happened: the famous (or infamous depending on your point of view) phone conversation with Nolan Ryan.

"Nolan explained that I was landing on my right heel, which made the ball spin off the third base side. Then my arm dropped down, and I lost the strength of my body and the direction. He told me to land on the ball of my foot. It sounds easy, but it took me a while."

The other significant event in Johnson's life that year was the death of his father.

"When my dad died in '92, it forced me to dig deeper. I thought I was, but I really wasn't. I realized there is another level. I learned that to get better, you have to do things other people aren't doing."

The potential turnaround was also touched on in the Mazeroski annual.

Johnson, 29, finally may be turning the corner. He was smart enough to pay attention when Nolan Ryan offered advice last year. Johnson, spacey as always early in the season, came out a new man when Ryan told him the same thing coaches had for years: That he should be using his 96-mph fastball to set up an occasional slurve, rather than the other way around. He made 11 starts after conferring with Ryan, going 5-2 with a 2.87 ERA and yielding 48 hits in 85 innings. His payoff could have been better, as he got no decisions in an 18-strikeout game against Texas and a one-hit, nine inning stint against California in which he struck out 15 and walked only one. Johnson led the league in strkeouts (241), walks (144), and hit batters(18).

1993
The loss of Johnson's father caused him much grief. It also pushed him to become a more devout Christian as well as taking his baseball career more seriously. He made some changes to his windup which helped his control, began using his slider more, and had his first great season, 19-8 with a 3.24 ERA. Following his breakout 1993, Johnson's writeup in that season's Bill Mazeroski annual was far more glowing.

The iconoclastic Randy Johnson and regimented Lou Piniella have formed an uneasy alliance, but both came to understand they need the other's support to succeed. Johnson has improved his mechanics and become less selfish in relating to his team. This could be the year he wins the Cy Young that escaped his soulmate and teacher, Nolan Ryan.

Johnson's place in the game was underscored by a scene from the 1993 All-Star game. Johnson's first pitch flew over John Kruk's head all the way to the screen. Kruk was untouched, yet dazed. He is as tough as they come yet offered meekly at the next three pitches, then said he was happy simply "to get out alive." It was a good day for Kruk and others in the National League when the Mariners signed Johnson to a contract extension running through 1997 with an option for '98.

No lefthander throws as hard as Johnson, and no one comes close to him at instilling fear in hitters. He led the major leagues in hitting batters with pitches (16) last year. Was it any coincidence he also held batters to a .203 average? He no longer can be counted on to beat himself, and seldom does an opposing team do the job by itself.

In the ranking of top left-handed starters, Johnson came in second to Mark Langston.
SCOUT: "Stuff-wise, he's in a class by himself. He finally started showing some maturity out there last year, but let's see if he puts two years together before we say he's the best. His control is always going to be borderline, which actually helps him.

That little doubt is in the hitters mind: 'Am I going to be the one he hits in the head and kills?'"

As good as 1993 turned out to be, the best was yet to come for Johnson. Look for the next installment, covering 1994-1999 later this week.

Thanks to Jason Pommier for Johnson's USC stats
--posted at 11:05 PM by SG / |
---
January 29, 2005
---
by SG
The last couple of seasons, I've been running 100 simulations of Diamond Mind Baseball using various projection disks. Although projections are not always valid, I find these interesting, just to see the shape of expectations for all teams if people perform as expected. I don't read too much into these results, because they don't account for injuries, over/under performance, or roster changes, but it's a good way to kill time waiting for the season to start. Diamond Mind does have injuries, but they vary from season to season.

Anyway, here are the results through 100 seasons with Dan Szymborski's ZiPS projection disk.


								
Through 100 seasons
                        Avg                         High   High
                         W   L   RF   RA   DIV  WC  Wins   Losses
American League
East
Baltimore Orioles       76  86  819  866     0   2   90    103
Boston Red Sox          92  70  920  788    52  23  109     86
New York Yankees        91  71  905  794    43  25  111     85
Tampa Bay Devil Rays    75  87  762  833     1   2   88    102
Toronto Blue Jays       82  80  804  790     4   9   96     96
								
Central
Chicago White Sox       74  88  753  834     8   2   94    103
Cleveland Indians       74  88  799  847    10   0   94    105
Detroit Tigers          76  86  767  824    10   0   88    100
Kansas City Royals      69  93  779  912     1   0   80    103
Minnesota Twins         86  76  793  749    71   0  100     98
								
West
Anaheim Angels          84  78  808  781    19  11   96     91
Oakland Athletics       89  73  842  745    50   9  110     91
Seattle Mariners        85  77  810  780    22  13  103     90
Texas Rangers           81  81  843  852     9   4   98     96
								

National League
East							
Atlanta Braves          81  81  766  761     4  11   95     97
Florida Marlins         87  75  761  708    23  14   98     88
New York Mets           87  75  775  710    19  19  103     90
Philadelphia Phillies   92  70  789  684    48  20  107     80
Washington Nationals    81  81  704  715     6   6   99     96
								
Central								
Chicago Cubs            82  80  746  720     6   7   94     97
Cincinnati Reds         70  92  732  831     0   0   87    108
Houston Astros          76  86  688  752     0   1   89    100
Milwaukee Brewers       79  83  703  724     2   3   96    104
Pittsburgh Pirates      74  88  703  767     0   0   91    101
St. Louis Cardinals     96  66  781  641    92   4  110     81

West
Arizona Diamondbacks    65  97  674  822     0   0   82    114
Colorado Rockies        72  90  796  883     1   0   86    104
Los Angeles Dodgers     92  70  748  661    74   5  110     94
San Diego Padres        78  84  714  742     3   2   90     97
San Francisco Giants    84  78  773  739    22   8  101     94




Just like last year, Boston and New York appear to be very evenly matched, although both teams project to be slightly worse than last year. Toronto projects much better than I expected, especially with the loss of Delgado. What's troubling for Yankee fans is that they missed the playoffs 1/3 of the time in these runs. I still think it's unlikely that Boston and New York don't both make the playoffs, because the AL Central appears to be weak again this year, and no team in the AL West projects as a lock to win 90 games.

There's also some interesting stuff in the other divisions, where St. Louis, Minnesota, and Los Angeles look like good bets to win their divisions.

I usually run these again with Diamond Mind's projection disk, which comes out in spring training and will have the most up-to-date rosters. They also use a different type of projection system, which may affect the outcomes slightly.

Update: Here's a side by side comparison of the Yankees and Boston for each season (thanks to rilkefan for the suggestion).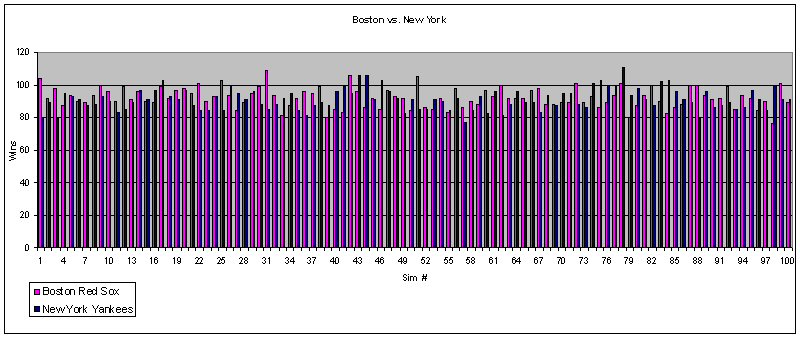 Slightly Larger Version
--posted at 1:15 PM by SG / |
---
January 27, 2005
---
by SG
The thought of Bernie Williams as the every day CF has obviously distressed many Yankee fans. According to the article linked above:

The Yankees have few details to finish before spring training begins in three weeks, and it appears they will sign either Doug Glanville or Tom Goodwin to a minor-league contract to fill the fourth outfielder's role.

This won't help. The Yankees have made the following moves in the offseason which have not helped the team:

Re-signed John Flaherty(career OPS+ of 75)
Re-signed Ruben Sierra(.296 OBP last season)
Signed Tony Womack to be the starting 2B(career OPS+ of 75)
Signed Rey Sanchez to be the backup infielder(career OPS+ of 69, 63 last year)

You would think it wouldn't be possible to make a worse move than those, but signing Doug Glanville would qualify. Not only did he put up an OPS+ of 32 last year, his defense rates as terrible by UZR. I don't have his 2004 numbers, but from 2000-2003 he rated as a -20 per 150 games. Goodwin does rate far better on defense, with a +16 per 150 games from 2000-2003. However, his career OPS+ of 73, and last year's total of 34 are far from overwhelming. He does have decent speed, so he could have value as a defensive replacement and pinch runner.

I almost get the sense the Yankees are trying to make themselves worse with each subsequent move. Also, by signing Sanchez and one of these people, they will likely deny the chance for Andy Phillips and/or Bubba Crosby to make the team, and provide similar value at a fraction of the cost, with the potential for some upside.

I feel a bit weird writing about baseball so soon after Larry's horrible situation, but the outpouring of support from his readers and Larry's great attitude given what has to be an absolutely devastating moment make me feel less strange about it. I'd like to say I'm very impressed by everyone's comments and support, and am just glad that Larry has given me the chance to contribute to his great blog from time to time. Thanks Larry, and thanks to all of Larry's supporters.
--posted at 9:41 AM by SG / |
---
by Larry Mahnken
I think some of my friends with the keys here are afraid to write right now because they don't want to push the fire news off the top of the page.






























There. This is a baseball site, talk about baseball.

--posted at 7:35 AM by Larry Mahnken / |
---
January 25, 2005
---
by SG
Larry's dad asked me to post this message on the blog.


Hi, everybody. This is Larry's dad. I'll leave it to him to give you all the details, including news photos, but I just wanted to express my heartfelt thanks to all of you for your overwhelming response to Larry's recent loss. He was not only instantly homeless but he lost everything in the fire except the tee shirt and sweatpants he was wearing and a pair of sneakers and a jacket he grabbed on the way out.

As some of you know, Larry lives in upstate NY and his mom and I live in Southern Pennsylvania. I'm just starting to get out from under after 10 months of unemployment, which is neither here nor there except that when this happened, well, suffice it to say that there's no more helpless feeling as a parent than seeing your child in need and being unable to do anything about it. His mom drove up on Monday to be there to help out in any way she could. Having recently started a new job I'm stuck here getting regular updates via telephone. Things were looking pretty grim.

And then you guys came through.

The expressions of encouragement, the prayers and the emotional support came as no
surprise. I've been reading this blog long enough to know that you'd all come
through in that way. What's left me stunned is your response in offering and delivering aid directly to Larry. I can't thank you enough for that. You're all helping to turn what could have been an emotionally devastating experience into something amazing.

Hopefully Larry will be back on his feet soon. In the meantime, his sister has given him access to her computer so he should back blogging (and infuriating some of you) soon.

I know it's become a cliche, because every team uses it as a throw-away line, but all of you, no matter what team you're rooting for, are truly the greatest fans in the world.

Thank you.

Larry's Dad
--posted at 9:32 PM by SG / |
---
January 24, 2005
---
by Larry Mahnken
My apartment burned down at about 2am this morning. I'm currently homeless.

So, obviously, I'll be out of comission for the forseeable future.

--posted at 7:27 AM by Larry Mahnken / |
---
January 18, 2005
---
by SG
As spring training approaches, the Yankee roster appears to be set for the most part.

The defense will probably contend for worst in the league. Only Tino Martinez and Alex Rodriguez project to be above average defenders. Derek Jeter had an improved defensive season last year, but it remains to be seen if that can be sustained, and he still turned out to be only average, Gold Glove aside. Tony Womack is a defensive downgrade from Miguel Cairo, and the outfield is shaky from left to right.

The starting rotation has the potential to be very good, but fraught with risk. Randy Johnson age and knee, Kevin Brown's age and various ailments, Mike Mussina's age and struggles last year, Carl Pavano's switching leagues and past performance, and Jaret Wright's potential to implode, there are legitimate concerns with all five starters.

The bullpen appears to be deep, although another lefty would be a good addition since Stanton is not really a lefty-killer.

From the way things stand now, it looks like the offense will have to carry this team. Luckily, that is the Yankees' strength. The Yankees had the best offense in the league last year by some advanced metrics (Fenway Park's park factor skewed the Red Sox's raw offensive totals quite significantly). The Yankees led the majors in EQA & EQR last season.

Some age-related decline can be expected from the majority of the lineup, but replacing Tony Clark and John Olerud with Tino Martinez will actually be a gain. Alex Rodriguez and Derek Jeter are also reasonable bets to exceed last year's numbers. Replacing Miguel Cairo's 2004 with Tony Womack's 2005 will likely be a downgrade, but hopefully not a huge one.

So what about Jason Giambi?

In Jack Curry's New York Times article,
The Yankees Are Resigned to Having Giambi Back, it appears that it is fairly likely that Giambi will be a Yankee in 2004. An excerpt:

The Yankees are not likely to pay Giambi $82 million to leave, although they might agree to half that amount. Yankees General Manager Brian

Cashman said Tuesday that Giambi was a part of the team and "would be in Tampa in time for the first full-squad workout."

But the Yankees have continued to research whether they have a legal basis for canceling Giambi's contract. So far, the Yankees have discovered that, for many reasons, it would be very difficult to prove that Giambi violated his contract.

Although the Yankees think Giambi misled them when he told them last season, while being treated for a parasite and then a benign tumor in his pituitary gland, that he had not used steroids, they do not think the misrepresentation was enough to enable them to void his contract.

To me, one of the critical factors in the Yankee offense this season will be how Giambi performs. This is probably as unpredictable as anything in baseball going into 2005. However, a productive Giambi would prevent outmakers like Ruben Sierra from getting too much playing time. So what are the factors that we have to look at with Giambi?

According to Giambi's leaked grand jury testimony, he has used various performance enhancing drugs since 2001.
Included in the list are Deca Durabolin, an injectable steroid which enhances building of muscle. When Giambi met up with Greg Anderson to inquire about Barry Bonds's training regimen, Anderson suggest the infamous Balco blood test, which would supposedly check for mineral deficiencies and prescribe supplements to correct them. Anderson warned Giambi about getting off Deca when he detected it in his test, and instead began providing him various other drugs, including injectable testosterone, "the cream", and "the clear." Giambi was also taking human growth hormone at the time.

In addition to those, Giambi was also taking several different pills, including Clomid, female fertility drug. This drug supposedly can enhance the effectiveness of testosterone.

The reason athletes seek to increase their testosterone levels is to faciliate recovery from training. Weighlifting is very taxing on the body. Lifting weights actually tears down the muscle fibers being worked, which are then rebuilt becoming stronger than before. Without the use of anabolic steroids, people who work out run the risk of overtraining, which can be detrimental. Steroids allow you to work out harder and recover faster. The steroids themselves do not magically make muscles appear, and do not make you grow without the work being put in. If Giambi is willing to put in the work necessary, he should be able to regain a reasonable amount of his strength. However, there is a complication to that.

The New York Daily News reported Sept. 3 that Giambi had a tumor in his pituitary gland.

Did his abuse of drugs lead to Giambi's pituitary tumor? The link between steroid abuse and tumors is tenuous, but does exist. From the University of Maryland's Medical Center page about pituitary tumors:

According to The National Institute of Diabetes and Digestive and Kidney diseases, autopsy studies indicates that 25 percent of the US population has some form of small pituitary tumor. The vast majority of these are benign and not considered clinically significant. Only a very small number of people (about 14 in 100,000) experience health effects attributable to pituitary tumors.

Clomid has been linked to exacerbating pituitary tumors in some studies.

Some of the side effects of pituitary tumors include:

headache
decreased appetite
vision impairment, blurriness, blindness (particularly poor peripheral vision)
excessive thirst and frequent urination
nausea
fatigue

Any of these would have made it significantly difficult to play baseball.

Also of concern is the fact that Giambi has been suffering from nagging injuries the last two season, and is at an age where decline is expected in even the healthiest of players. He had arthroscopic surgery on his knee in 2003, and this past season suffered a sprained ankle, as well as dealing with a balky back.

With a rudimentary form of steroid testing in place last year, it's probably a safe assumption that Giambi was not on them last season. His thinner appearance when he reported to spring training would also seem to indicate as much. So it's not completely unreasonable that how he performed prior to his ankle injury and battle with the parasite and tumor is indicative of how he may perform without the benefit of PED.

Prior to spraining his ankle and going on the disabled list on May 22, Giambi's hitting stats:


AB:   126
R:     20
H:     34
2B:     7	
HR:     9	
RBI:   24	
BB:    24	
SO:    27	
AVG: .270
OBP: .406
SLG: .540
OPS: .946



If you project those results over 150 games:



AB:   525
R:     83
H:    142
2B:    29 	
HR:    38	
RBI:  100	
BB:   100	
SO:   113	
AVG: .270
OBP: .406
SLG: .540
OPS: .946



Not bad, huh?

This tells me that being off steroids is not the big concern with Giambi. The problem that I see will be the effects of the pituitary tumor on his health going forward.

Of the various treatment options available, Giambi had non-surgical treatment, with steroids oddly enough, according to published reports.

Hormone replacement therapy is an important part of any treatment for a pituitary disorder. Hormones must be prescribed to meet your exact needs.

Sometimes tumors cause a lack of hormone, which can lead to the symptoms you are having. Sometimes lack of hormone is caused by the treatment you have for pituitary tumors. Radiation therapy, for example, can lead to permanent loss of hormone secretion.

Some hormones are absolutely necessary for survival. These hormones must be replaced immediately. The replacement of cortisol is important, because this hormone regulates blood pressure and blood glucose levels. Cortisol replacement is common during tumor surgeries because it helps the body to handle stress.

TSH, or thyroid stimulating hormone, is also vital to survival, because it regulates the body's metabolism. If TSH secretion is low, you may also need to start thyroid hormone replacement.

So it seems that there is treatment available for the effects of the tumor, although I don't know how effective it will be for a professional athlete.

i won't try to defend Jason Giambi or his actions. He broke the law to gain a competitive advantage over his rivals. However, it was not a capital offense. In his own misguided way he was trying to make himself a better player, and it backfired on him. A lot of Yankee fans are mad at Giambi and will root against him now. I won't attempt to change your minds, but until something changes, he is a part of this team, and I will be pulling for him to have a comeback year. I think he can duplicate his 2003 numbers, and hold out a slim hope that he could be closer to his 2002 numbers.

He will probably also need to do some public relations work to rehabilitate his image in the eyes of the fans. I think if he does both of those things, he will win most Yankee fans over.

--posted at 9:56 AM by SG / |
---
January 12, 2005
---
by SG
The Yankees not getting Carlos Beltran was obviously a surprise to most. In a Newsday article titled They wanted arms first, Beltran second, there is some explanation as to why the Yankees felt Beltran was not a fit.

In the eleventh-hour negotiations between the Mets and Astros for Carlos Beltran last Saturday, the Yankees were offered the free-agent outfielder for $99 million over six years, Yankees general manager Brian Cashman confirmed yesterday, but declined because the team was not in a position to shell out more money given its commitment to retool its pitching.

I do not disagree that the Yankees needed to strengthen their pitching staff. However, paying $10 million a year to Carl Pavano and $7 million a year to Jaret Wright were probably not the optimum way to go about it.

I'll look at the Wright signing first. For an additional $1 million a year, they could have signed Matt Clement or Odalis Perez instead of Wright. Wright had a very good year last year, but it was so far out of line with what he had done in the past, that it is extremely risky to expect him to repeat it again, especially for three years. The Braves offered Wright 2 years, $4 million, and they would know better than anyone how much Wright might be worth. I will grant that Wright has talent, and that he may have finally put it together last year, but combine his various injury problems with his lackluster results, and he is a signficant risk.


The other pitching acquisition which I'm not as down on is Carl Pavano. I do think the Yankees overpaid, and I do agree that he has been an average pitcher until 2004. However, pitchers often reinvent themselves, by learning a new pitch, or by better coaching, or whatever. Pavano was such a highly rated prospect that he was once the key chip in the Boston trade for Pedro Martinez. If you look at his minor league statistics, he combined good control (2.28 BB/9 innings) with a solid strikeout rate (7.85/9 innings). In the majors, he's managed to improve his control every year since 2001.

In 2001, he walked 3.4 men every 9 innings.

In 2002, he walked 3.0 men every 9 innings.

In 2003, he walked 2.2 men every 9 innings.

In 2004, he walked 2.0 men every 9 innings.

ESPN's scouting report from Stats Inc. describes Pavano thusly:

Velocity no longer is the thing with Pavano, who is far wiser after several surgeries on his throwing arm. He features a 91-94 MPH fastball that he can locate to all four quadrants of the strike zone. He complements the fastball with a tight slider and has a split and a change to keep lefties honest. Pavano's biggest strength is his ability to throw any of those four pitches for strikes in any count. Surprisingly, considering the false starts of his early career, Pavano has become one of the more durable and reliable pitchers in the game.

There are legitimate concerns about Pavano. His strikeout rate last season was a pedestrian 5.63K/9 innings. His career rate of 5.92 is also unimpressive. There is also the fact that he pitched half his games in a pitcher's park

A 1.000 is a league average park factor. Any thing below 1.000 would favor the pitchers, any thing greater would favor the hitters.

R: 0.898
HR: 0.987
H: 0.951
2B: 0.930
3B: 1.025
BB: 1.058

So Pro Player boosts 3B and BB, but lowers everything else, which is a legitimate concern.

What's interesting about that though, is Pavano's Home/Away splits last year:


Split  AB   H    2B  3B  HR RBI  BB  HBP  SO  SB  CS   BAA   OBP   SLG   OPS
Home   388  106  23  3   8   39  23   7   69  10   4  .273  .325  .410  .734
Away   450  106  23  2   8   33  26   4   70   6   1  .236  .282  .349  .630

Split  ERA   RA     W  L G   GS  IP     H    R   ER  HR   BB   SO
Home   3.20  3.55   6  6 14  14  101.1  106  40  36  8    23   69
Away   2.83  2.98  12  2 17  17  121.0  106  40  38  8    26   70



He has pitched better at home than on the road if you look at his last three years, but in his best season he did not get any significant advantage from his ballpark. Also, many times a pitcher will give up a large amount of unearned runs which may give a false indication of his effectiveness, but this was not the case with Pavano last season.

His HR rate is good, but not great. He will also be leaving the National League for the American League and the DH, which will hurt him.

Dan Szymborski's ZiPS projection puts Pavano at 13-11 this year, with a 4.36 ERA. To me, that's the worst case scenario that last year was a blip and he reverts back to career form. If he did in fact figure something out last year, I could see him being closer to his 2004 numbers, with a league and ballpark adjustment. He also brings relative youth to the staff, as he will be 29 next season.

If you think of Pavano as a younger version of Jon Lieber, with good control and lackluster K #s, it's not such a terrible signing, and I think he will be solid as a third starter for this team.

So the question remains, who'll play CF? I think it's clear that it will be Bernie, because if the Yankees felt Bernie was a problem, they would've gone after Beltran. I would like to see them make a move, but I don't know that there's a fit out there anywhere. They do have an extra arm in the bullpen, and could try to flip someone like Gordon or Felix Rodriguez for a CF, but I don't think they would be able to get anyone of quality for just one reliever.


--posted at 9:13 AM by SG / |
---
January 6, 2005
---
by Sean McNally
News broke today that the Yankees and DBacks finally completed (pending physicals) the long awaited exiling of Javier Vazquez to the desert... oh, and Randy Johnson's a Yankee now too.

I've held my tongue about this deal until it was done but here are some gut reactions.

1 - I liked Home Run Javy. I still think he was, or possibly still is, injured. Even with the slumping finish to the 2004 regular season, if Damon hooks that pitch foul in Game Seven, I think Vazquez is still a Yankee.

2 - Johnson is an all-world talent, one of the all-time greats, and he's certainly a short-term upgrade and Vazquez, Navarro and Halsey.

3 - The whiners should now come out of the woodwork that the Yankees are ruining baseball, yada yada yada... But consider this: For the 2005-2007 seasons, Javy is due $34.5 million ($10.5, $11.5M and $12.5M respectively). With the new extension, Johnson is getting $48.5 million for the same period of time - in $16 million chunks. Because of the way Arizona structured the deal, he only gets $10.5 this season, with $6 million deferred. That's a total difference of $14.5 million - or $4.83 million per season. Now I dunno about you, but adding roughly $5 million to the payroll doesn't seem like a big deal to me (unless you're paying to Tony Woe-mack over two seasons).

4 - Regardless of this move, the offseason will be a failure if Carlos Beltran isn't in Pinstripes for the new season. Trading Lofton and keeping Bernie with no discernible successor or replacement set New York up sign Beltran to fill a need. Without him the Yanks are left with few options in replacing a legend who's lost a step. I suppose Torre could have the Stengel conversation with Matsui, and tell him to "get everything you can, because the old man can't run like he used to," but that certainly doesn't do much as a long-term solution. Without Beltran, overpriced as he might be, the Yankees strong core of Posada, Jeter and Williams is, well, frighteningly weak. Unless ....

5 - All the no Beltran posturing is a prelude to something that many Yankee fans have advocated for quite some time - the Yountification of St. Derek. Moving Jeter to center plays to his strengths as a shortstop: namely, his plus-arm and his ability to catch flyballs on the move. This allows ARod to slot back in his natural shortstop and opens a hole at third-base that could be filled temporarily with any number of short-term plugs. Currently, Tony Batista, Mark DeRosa and Eric Munson are available, probably for a song. In addition, SJ's love child, Andy Phillips is lurking as a AAAA answer. With Eric Duncan perhaps merely one season away, a hole could be closed long-term quickly. In addition, several teams appear to be souring on their current hot-corner tenders - among them Toronto (Eric Hinske), Houston (Morgan Ensberg) and Chicago (Joe Crede) - any one of them is capable of hitting eighth and not playing embarassing defense (Think Aaron Boone).

All that being said - I still expect Johnson and Beltran to be in the clubhouse in February, picking out new numbers because 15 and 51 are spoken for.

--posted at 2:43 PM by Sean McNally / |
---
January 4, 2005
---
by Larry Mahnken
What a waste of money.

Keep Lieber (pick up his option) and El Duque, don't sign Pavano and Wright. There's $5 million.

Don't sign Womack, give the starting job to Cano. There's $2 million, $7 million total.

Keep Vazquez and the $8 million sent along, and don't trade for Johnson, there's $13 million, $20 million total.

Don't sign Tino, there's another $3 million, $23 million total.

Don't re-sign Sierra (as they're about to), save $1 million, $24 million total.

Sign Beltran, save at least $6 million, have a better team than they're going to.
--posted at 4:38 AM by Larry Mahnken / |
---
January 3, 2005
---
by SG
According to Murray Chass in the article linked above, Carlos Beltran may not be in the Yankees' plans any longer.

But if a weekend signal is accurate, the most intriguing story has yet to happen. If it does happen, it will be a nonmove, as opposed to the Martínez, Wells, Johnson, Hudson and Mulder moves.

The nonmove? The Yankees will not sign Carlos Beltran, the most attractive, and expensive, position player on the free-agent market. But it's not just that the Yankees will not be signing Beltran. The story would be that the Yankees will not even try to sign him.

That was the surprising signal from a baseball official over the weekend. The official, who is in a position to hear such things, heard last week that the Yankees did not plan to pursue Beltran.

"Someone told me the other day, if they get Johnson they wouldn't go after Beltran," the official, who refused to be named, said. "Even the Yankees have to have a limit."

This could be very problematic. Bernie Williams is not an adequate defensive CF any longer. Ultimate Zone Rating, known as UZR for short, a defensive system developed by Mitchel Lichtman had Bernie at a -44 rating last year for 150 games. What this means is that Bernie Williams's defense cost the Yankee 44 runs over the average defensive CF for every 150 games he plays. This is by far the worst rating of any defensive OF in baseball, and would cost the Yankees around 4 wins.

The Mets are making a big push for Beltran, and it is looking more and more unlikely that he will be playing for the Yankees next year. With a farm system that has been further depleted in the Johnson trade, and no one on the farm ready to come up and play CF in the majors, the Yankees have some very limited options at this point.

1) Play Bernie as the everyday CF
2) Move Matsui to CF, shift Bernie to left
3) Move Matsui to CF, sign someone to play left, have Bernie DH
4) Get another CF somehow

I would guess that option 1 is the worst one. Knowing the way Joe Torre and the Yankees operate, it is also the most likely.

Option 2 is risky, because you'd still have Bernie playing in the field, and we don't know how well Matsui would do in CF.

Option 3 is probably not much of one, as there is very little available on the free agent market at this point. Perhaps someone like Jeromy Burnitz could be signed to a one year deal or something.

Option 4 is probably the best choice if they can't get Beltran. However, the Yankees are probably stuck with the most inflexible roster in basball. It's not that they have bad players, they have very good players, but they are either overpaid, aging, or have no-trade clauses. In this case, they would have to try and get a CF in a contract dump or something. I'd guess the people most likely to fit this description would be Preston Wilson from Colorado or Ken Griffey from Cincinnati. However, neither one is very good defensively any more (although far better than Bernie), and both come with big contracts and injury issues. Another option could be Darrin Erstad, but I think the Angels overvalue him and would not want to get rid of him for nothing, which is basically what the Yankees could offer right now.

It's too soon to know what will happen with Beltran, and this is just another article in an offseason full of stories that were inaccurate or premature, so it's probably not time to panic yet. However, watch Beltran's dealing with the Mets very closely over the next few days.

I wonder if Philadelphia would undo the Lofton for Felix Rodriguez trade?

--posted at 10:43 PM by SG / |
---
January 1, 2005
---
by Larry Mahnken
1. The Yankees do not sign Carlos Beltran, and play Bernie Williams in center all season
2. Javier Vazquez has an ERA below 3.50
3. Randy Johnson has an ERA above 4.00
4. Colter Bean does not throw a single major league pitch
5. Jason Giambi hits 30 HRs and has an OPS over .900
6. Tony Womack plays 150 games at second base, hits .270, has a .690 OPS, and Kay and Kaat talk all year about what a great addition he's been to the top of the lineup because he steals 30 bases
7. Carl Pavano and Jaret Wright each have ERAs over 4.00, and win fewer than 30 games combined
8. Paul Quantrill, Tom Gordon and Mariano Rivera are all overused by Joe Torre again and break down in October
9. Derek Jeter's defense regresses, but he still wins the Gold Glove, as he will do do every year until he retires, and be remembered as a great defensive player
10. The Yankees will win the AL East by five games, but lose by at least 10 games in the adjusted standings

Happy New Year

--posted at 2:32 AM by Larry Mahnken / |
---