---
DIPS Worksheets!
---
---
January 2001
April 2003
May 2003
June 2003
July 2003
August 2003
September 2003
October 2003
November 2003
December 2003
January 2004
February 2004
March 2004
April 2004
May 2004
June 2004
July 2004
August 2004
September 2004
October 2004
November 2004
December 2004
January 2005
February 2005
March 2005
April 2005
May 2005
June 2005
July 2005
August 2005
September 2005
October 2005
November 2005
December 2005
January 2006
February 2006
March 2006
April 2006
May 2006
June 2006
July 2006
August 2006
September 2006
October 2006
November 2006
December 2006
January 2007
February 2007
March 2007
April 2007
May 2007
---
LINKS
---
Yankees Sites and Columnists
Nomaas.org
---
General Baseball Sites & Columnists
At Home Plate
Rotoauthority.com
The Book Blog - Playing the Percentages in Baseball(Tango, MGL, Dolphin)
---
Yankees Blogs
Almost Perfect
Baby Bombers
Baseball Mania
Bronx Banter
Bugs and Cranks
Canyon of Heroes
Dugout News
Eephus Pitch
Here Comes Number 27
High and Tight
Lohud Yankees Blog
No Sense Worrying
Pinstripe Potentials
River Ave. Blues
Soft Hands
The Stat Boy of the Empire
Was Watching
Yankees Chick
Yankees Fans in Foreign Lands
Yanks Blog
---
Other Team Blogs
Anaheim Angels All the Way
Bucco Blog
San Francisco Giants Blog
Viva El Birdos
---
Look what people have to say about Larry Mahnken's commentary!
"Larry, can you be any more of a Yankee apologist?.... Just look past your Yankee myopia and try some objectivity."
- Bernal Diaz
"Mr. Mahnken is enlightened."
- cordially, as always,
rm
"Wow, Larry. You've produced 25% of the comments on this thread and said nothing meaningful. That's impressive, even for you."
- Anonymous
"After reading all your postings and daily weblog...I believe you have truly become the Phil Pepe of this generation. Now this is not necessarily a good thing."
- Repoz
"you blog sucks, it reeds as it was written by the queer son of mike lupica and roids clemens. i could write a better column by letting a monkey fuk a typewriter. i dont need no 181 million dollar team to write a blog fukkk the spankeees"
- yan
"i think his followers have a different sexual preference than most men"
- bob
"Boring and predictable."
- No Guru No Method
"Are you the biggest idiot ever?"
- Randal
"I'm not qualified to write for online media, let alone mainstream media."
- Larry Mahnken
---
This site is best viewed with a monitor.
Disclaimer: If you think this is the official website of the New York Yankees, you're an idiot. Go away.
March 20, 2006
---
by SG
Last year, I ran 2000 Diamond Mind Simulations with Diamond Mind Baseball and projection disks by Diamond Mind and ZiPS. This year, I've done it again, and also added another 1000 runs using Baseball Prospectus's PECOTA projections.

As always, I advise anyone looking at these to take them with a ton of salt, as it is impossible to project how everything will shake out, and injuries, roster changes, and over/under performance will end up changing things in ways that cannot be prognosticated.

First up are the results with Diamond Mind over 1000 seasons.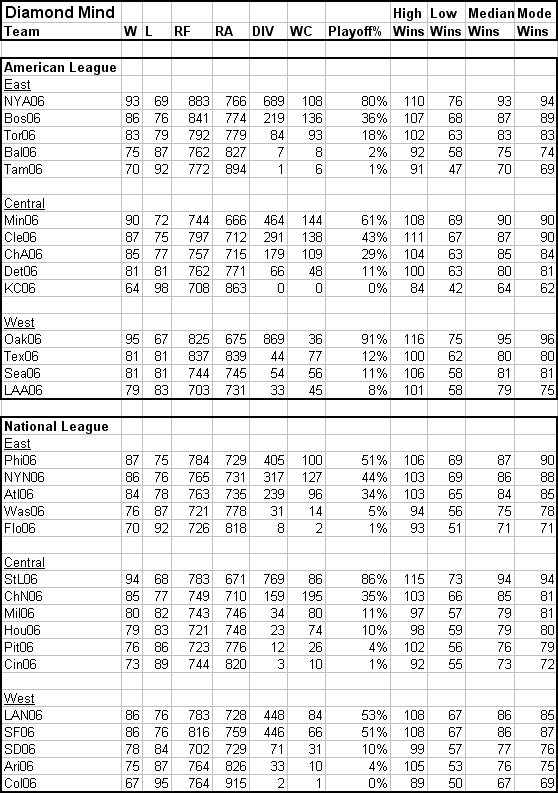 Diamond Mind sees the Yankees winning 93 games on average, and scoring 883 runs while allowing 766. They won the division 689 times out of 1000, and made the playoffs in 80% of the seasons.

Next up, PECOTA.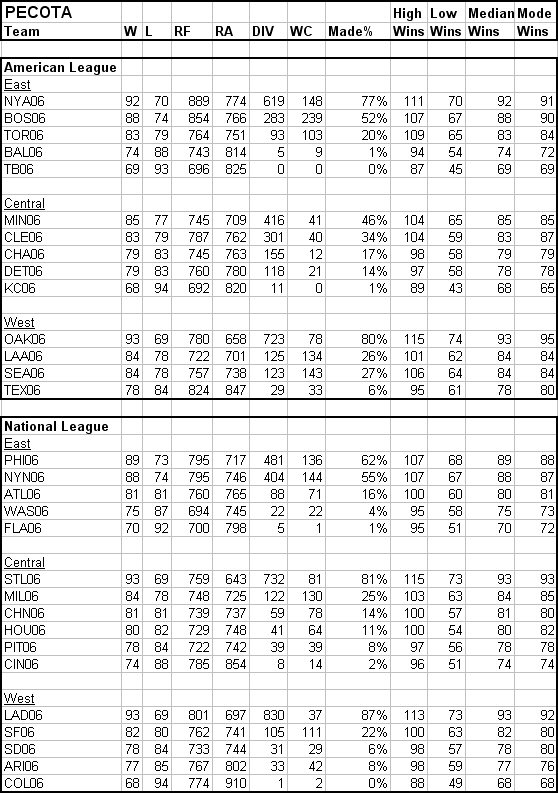 PECOTA has the Yankees winning 92 games on average, scoring 889 runs, and allowing 774, winning the division 62% of the time, and making the playoffs 77% of the time.

Lastly, is ZiPS.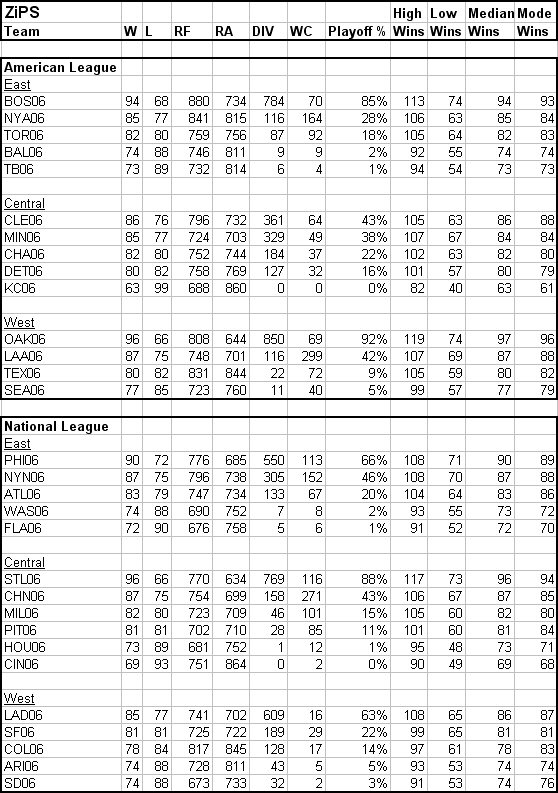 I guess ZiPS really does hate the Yankees, as they project them to score about 40 fewer runs per season while allowing 40-50 more runs in the average season, and winning just 85 games on average and making the playoff just 28% of the time.

I averaged the results of the 3 sets, which you can see below.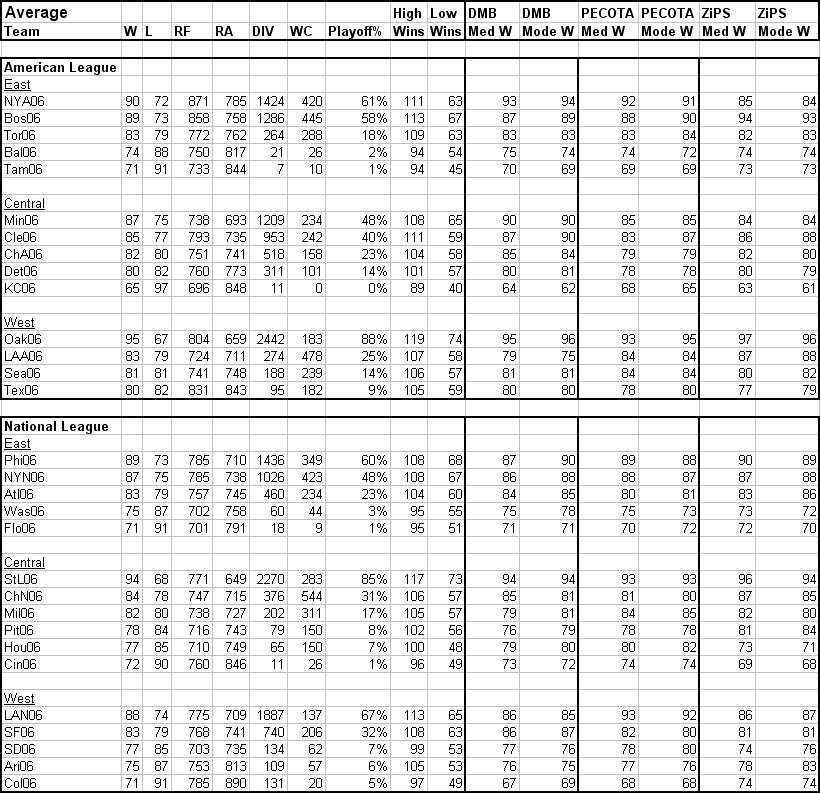 *Updated to show individual median and modes.

Oakland and St. Louis project to be the class of baseball. ZiPS drags the Yankees down to being the fourth most likely team to make the playoffs.

My guess is that Diamond Mind and PECOTA are closer to the truth, although that could just be the Yankee fan in me. My other thoughts from glancing at these:

- Minnesota seems kind of high to me. I'd put them behind Cleveland and the White Sox.
- How the hell did the Royals win any division titles?
- Oakland looks dominant, particularly in run prevention, and across all three sets of projections. Good thing the Yankees get to start the season 0-3.
- Philly's probably too high, and the Braves are too low.
- I guess St. Louis won't miss Reggie Sanders or Larry Walker very much
- The Dodgers? WTF?
- I played 100 season without Bonds separately and the Giants lost about 8 games more on average, so that's worth noting.
- These do not include the Brandon Arroyo for Wily Mo Pena trade, which looks to be about a one win upgrade for Boston based on Pena's expected role, and a 2-3 win upgrade for Cincinnati on a smaller set of 100 that I ran upon hearing about the trade. Boston scored about 15 more runs with Pena but gave up 5 more. Cincinnati gave up about 25 fewer runs per season, so I guess Brandon was a good pickup for them after all.

Over the next few days I'll look a little deeper at some of the results for the Yankees. Make of these what you will.

Update: I've uploaded the standings data for all 3 runs if anyone wants to take a look at it in more detail. The zip file is here, the link will be good for one week.
--posted at 8:48 PM by SG / |
---