---
DIPS Worksheets!
---
---
January 2001
April 2003
May 2003
June 2003
July 2003
August 2003
September 2003
October 2003
November 2003
December 2003
January 2004
February 2004
March 2004
April 2004
May 2004
June 2004
July 2004
August 2004
September 2004
October 2004
November 2004
December 2004
January 2005
February 2005
March 2005
April 2005
May 2005
June 2005
July 2005
August 2005
September 2005
October 2005
November 2005
December 2005
January 2006
February 2006
March 2006
April 2006
May 2006
June 2006
July 2006
August 2006
September 2006
October 2006
November 2006
December 2006
January 2007
February 2007
March 2007
April 2007
May 2007
---
LINKS
---
Yankees Sites and Columnists
Nomaas.org
---
General Baseball Sites & Columnists
At Home Plate
Rotoauthority.com
The Book Blog - Playing the Percentages in Baseball(Tango, MGL, Dolphin)
---
Yankees Blogs
Almost Perfect
Baby Bombers
Baseball Mania
Bronx Banter
Bugs and Cranks
Canyon of Heroes
Dugout News
Eephus Pitch
Here Comes Number 27
High and Tight
Lohud Yankees Blog
No Sense Worrying
Pinstripe Potentials
River Ave. Blues
Soft Hands
The Stat Boy of the Empire
Was Watching
Yankees Chick
Yankees Fans in Foreign Lands
Yanks Blog
---
Other Team Blogs
Anaheim Angels All the Way
Bucco Blog
San Francisco Giants Blog
Viva El Birdos
---
Look what people have to say about Larry Mahnken's commentary!
"Larry, can you be any more of a Yankee apologist?.... Just look past your Yankee myopia and try some objectivity."
- Bernal Diaz
"Mr. Mahnken is enlightened."
- cordially, as always,
rm
"Wow, Larry. You've produced 25% of the comments on this thread and said nothing meaningful. That's impressive, even for you."
- Anonymous
"After reading all your postings and daily weblog...I believe you have truly become the Phil Pepe of this generation. Now this is not necessarily a good thing."
- Repoz
"you blog sucks, it reeds as it was written by the queer son of mike lupica and roids clemens. i could write a better column by letting a monkey fuk a typewriter. i dont need no 181 million dollar team to write a blog fukkk the spankeees"
- yan
"i think his followers have a different sexual preference than most men"
- bob
"Boring and predictable."
- No Guru No Method
"Are you the biggest idiot ever?"
- Randal
"I'm not qualified to write for online media, let alone mainstream media."
- Larry Mahnken
---
This site is best viewed with a monitor.
Disclaimer: If you think this is the official website of the New York Yankees, you're an idiot. Go away.
October 18, 2006
---
by SG
Reader (and fellow blogger) Brent raised an interesting question in the comments yesterday about who the worst team money could buy may be. The invaluable Lahman database has salary information dating back to 1985, so I figured that's a reasonable cutoff.

Comparing salaries across eras is a little tricky, but I figured I could use a system similar to the one used for stats like OPS+ and ERA+, namely comparing the teams' payrolls to the league averages, and assigning them a payroll+ value. To do that, I divided the team payroll by the league average payroll and multiplied by 100, so a Payroll+ of 100 is league average, a Payroll+ of 150 is 50% greater than league average, etc.,

The goal of a baseball team is theoretically to win games, so the first set of numbers below is pretty straightforward, it's just the team's win total divided by their Payroll+ that season, aka W/Payroll+.




In this chart, Payroll is the team's actual payroll from the Lahman database (except for 2006, which I got here). AdjPayroll is just an adjustment to express the payroll in terms of 2006 baseball dollars, Payroll+ is what I mentioned above, W are team wins in that given season, W/Payroll+ is detailed above (strike/shortened seasons are adjusted accordingly), and Playoffs is just whether or not a team made the playoffs.

If you wanted further evidence of how inefficiently the Yankees have been run recently, the top 3 spots in the list are a pretty good indicator. No team has gotten less per dollar spent than they have.

Of course, wins are part of a team's goal, but so is making the postseason. How about if we just look at teams that didn't achieve that goal?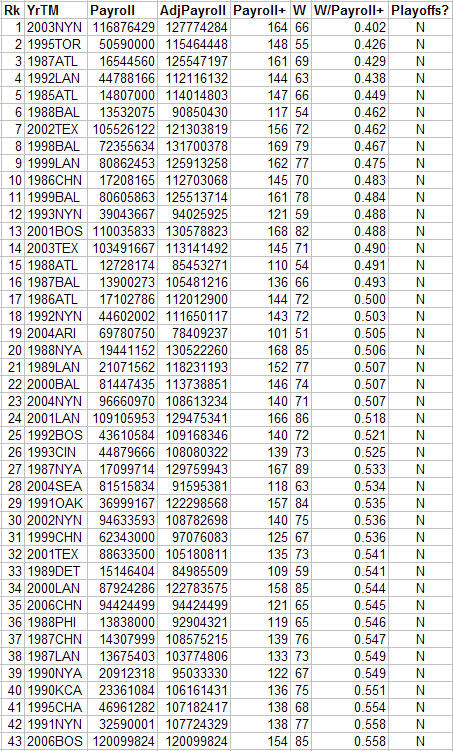 Congratulations to the 2003 Mets, the team that spent the most per win while failing to make the postseason.

Since the 2006 Red Sox came up in the original question, I ran the list all the way down to include them. As you can see, despite having the highest payroll ever for a team that did not make the postseason, relative to the league they were far from the biggest disappointment.

Update: rbj asked about including postseason wins, so here's the list with those added in.




--posted at 11:05 AM by SG / |
---