---
DIPS Worksheets!
---
---
January 2001
April 2003
May 2003
June 2003
July 2003
August 2003
September 2003
October 2003
November 2003
December 2003
January 2004
February 2004
March 2004
April 2004
May 2004
June 2004
July 2004
August 2004
September 2004
October 2004
November 2004
December 2004
January 2005
February 2005
March 2005
April 2005
May 2005
June 2005
July 2005
August 2005
September 2005
October 2005
November 2005
December 2005
January 2006
February 2006
March 2006
April 2006
May 2006
June 2006
July 2006
August 2006
September 2006
October 2006
November 2006
December 2006
January 2007
February 2007
March 2007
April 2007
May 2007
---
LINKS
---
Yankees Sites and Columnists
Nomaas.org
---
General Baseball Sites & Columnists
At Home Plate
Rotoauthority.com
The Book Blog - Playing the Percentages in Baseball(Tango, MGL, Dolphin)
---
Yankees Blogs
Almost Perfect
Baby Bombers
Baseball Mania
Bronx Banter
Bugs and Cranks
Canyon of Heroes
Dugout News
Eephus Pitch
Here Comes Number 27
High and Tight
Lohud Yankees Blog
No Sense Worrying
Pinstripe Potentials
River Ave. Blues
Soft Hands
The Stat Boy of the Empire
Was Watching
Yankees Chick
Yankees Fans in Foreign Lands
Yanks Blog
---
Other Team Blogs
Anaheim Angels All the Way
Bucco Blog
San Francisco Giants Blog
Viva El Birdos
---
Look what people have to say about Larry Mahnken's commentary!
"Larry, can you be any more of a Yankee apologist?.... Just look past your Yankee myopia and try some objectivity."
- Bernal Diaz
"Mr. Mahnken is enlightened."
- cordially, as always,
rm
"Wow, Larry. You've produced 25% of the comments on this thread and said nothing meaningful. That's impressive, even for you."
- Anonymous
"After reading all your postings and daily weblog...I believe you have truly become the Phil Pepe of this generation. Now this is not necessarily a good thing."
- Repoz
"you blog sucks, it reeds as it was written by the queer son of mike lupica and roids clemens. i could write a better column by letting a monkey fuk a typewriter. i dont need no 181 million dollar team to write a blog fukkk the spankeees"
- yan
"i think his followers have a different sexual preference than most men"
- bob
"Boring and predictable."
- No Guru No Method
"Are you the biggest idiot ever?"
- Randal
"I'm not qualified to write for online media, let alone mainstream media."
- Larry Mahnken
---
This site is best viewed with a monitor.
Disclaimer: If you think this is the official website of the New York Yankees, you're an idiot. Go away.
October 16, 2006
---
by SG
I noticed a couple of questions in some of the comments sections so I thought I'd answer them here.

From Anonymous:


Mo quietly (to me, at least) had the lowest K-rate season of his entire career and still managed to get his 4th best season ERA+. SG, from the hip, do you know how this season compares to other seasons in regards to Mo's league adj. K-rate?


From the hip? Nope, but here you go after some calculations.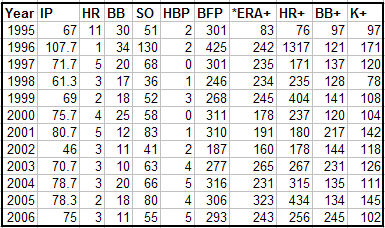 In this chart, BB+ and HR+ are the league average pitcher's HRs allowed/batters faced divided by an individual pitcher's numbers and multiplied by 100. A rate of 100 is exactly average, less than 100 is worse than average, greater than 100 is better than average. For K+, it's the individual pitcher's strikeouts/BF divided by the league's and multiplied by 100.

Mo's K rate was very low this season, but his BB rate was the best of his career. Mo's not young, so any decline in any statistics can certainly be a cause for some concern, but I wouldn't worry much. As you can see, his K rate seems to fluctuate pretty greatly from season to season.

From Twentyseven:


Hey, SG. I just want to see where Jorge graded out compared to other catcher soverall. Defensively, it seemed like he had a really good year, and offensively, he had the best season since what, 2003. Could you show me some stats on this?
Thanks,
TS


No problem Twentyseven, here you go.




In this chart, it's the same thing as the numbers I posted last week. BR are position-adjusted batting runs above average using linear weights, DR are the defensive runs above/below average for catchers. The catcher formula doesn't use zone rating, it uses SB, CS, PB, and errors, all compared to league averages. Total/162 just pro-rates the numbers over 1440 defensive innings and 650 plate appearances.

So Posada was the 2nd most valuable catcher in baseball last year. He had a great bounceback season from what looked to be the beginning of a decline.

If anyone has any other questions ask away.
--posted at 9:12 AM by SG / |
---