---
DIPS Worksheets!
---
---
January 2001
April 2003
May 2003
June 2003
July 2003
August 2003
September 2003
October 2003
November 2003
December 2003
January 2004
February 2004
March 2004
April 2004
May 2004
June 2004
July 2004
August 2004
September 2004
October 2004
November 2004
December 2004
January 2005
February 2005
March 2005
April 2005
May 2005
June 2005
July 2005
August 2005
September 2005
October 2005
November 2005
December 2005
January 2006
February 2006
March 2006
April 2006
May 2006
June 2006
July 2006
August 2006
September 2006
October 2006
November 2006
December 2006
January 2007
February 2007
March 2007
April 2007
May 2007
---
LINKS
---
Yankees Sites and Columnists
Nomaas.org
---
General Baseball Sites & Columnists
At Home Plate
Rotoauthority.com
The Book Blog - Playing the Percentages in Baseball(Tango, MGL, Dolphin)
---
Yankees Blogs
Almost Perfect
Baby Bombers
Baseball Mania
Bronx Banter
Bugs and Cranks
Canyon of Heroes
Dugout News
Eephus Pitch
Here Comes Number 27
High and Tight
Lohud Yankees Blog
No Sense Worrying
Pinstripe Potentials
River Ave. Blues
Soft Hands
The Stat Boy of the Empire
Was Watching
Yankees Chick
Yankees Fans in Foreign Lands
Yanks Blog
---
Other Team Blogs
Anaheim Angels All the Way
Bucco Blog
San Francisco Giants Blog
Viva El Birdos
---
Look what people have to say about Larry Mahnken's commentary!
"Larry, can you be any more of a Yankee apologist?.... Just look past your Yankee myopia and try some objectivity."
- Bernal Diaz
"Mr. Mahnken is enlightened."
- cordially, as always,
rm
"Wow, Larry. You've produced 25% of the comments on this thread and said nothing meaningful. That's impressive, even for you."
- Anonymous
"After reading all your postings and daily weblog...I believe you have truly become the Phil Pepe of this generation. Now this is not necessarily a good thing."
- Repoz
"you blog sucks, it reeds as it was written by the queer son of mike lupica and roids clemens. i could write a better column by letting a monkey fuk a typewriter. i dont need no 181 million dollar team to write a blog fukkk the spankeees"
- yan
"i think his followers have a different sexual preference than most men"
- bob
"Boring and predictable."
- No Guru No Method
"Are you the biggest idiot ever?"
- Randal
"I'm not qualified to write for online media, let alone mainstream media."
- Larry Mahnken
---
This site is best viewed with a monitor.
Disclaimer: If you think this is the official website of the New York Yankees, you're an idiot. Go away.
October 27, 2006
---
by SG
From Joel Sherman:


...
Boras represents Barry Zito, and the strong early indications are that neither New York club is planning to pursue the southpaw star, largely because of financial demands that almost certainly will climb well beyond even five years at $70 million. But that does not mean a playoff-proven and - just as vital - New York-proven pitcher might not be available at significantly less money by the name of Andy Pettitte.

Agent Alan Hendricks told The Post's George King yesterday that no firm plans had been made by either Pettitte or Roger Clemens whether to play in 2007 or whether they want to stay home in Houston if they do return. ...


This segues nicely into what I wanted to write about next, which are the starting pitcher options that are available on the market this offseason. Similar to what I did when trying to project Daisuke Matsuzaka, I did a weighted average for 2003-2005 for the candidates that I think the Yankees may have interest in. I then adjusted their statistics based on whether they'd be pitching in the NL or AL based on the weighted differences between the leagues over that same time frame, which are this:





The site mlb4u.com has a comprehensive list of all the potential free agents. I picked out the ones who I thought might make at least a little sense for the Yankees to consider, and here they are. Again, the numbers below are a 3 year weighted average of 2003-2005, then adjusted for AL vs. NL.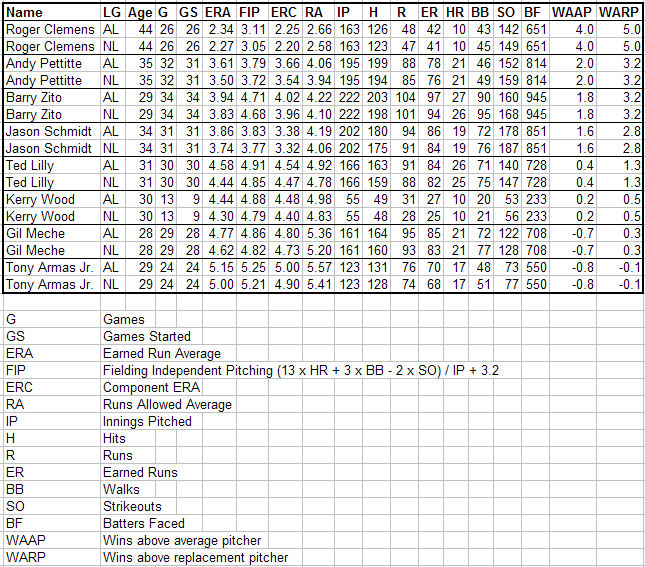 Not a very inspiring list. I'd imagine Roger Clemens's projection is way too optimistic, but even if you add another run to his ERA he's probably the best option. The problem is, he's also the least likely option. He's also going to be 44, and while he works out like a madman, there's no way to know how long he can keep going.

Getting back to Sherman's point though, it's interesting to see that there's not much difference projected between Pettitte and Zito, although there's a pretty significant age difference, and a bigger risk of injury with Pettitte. This may be balanced somewhat by the fact that you can sign Pettitte for a shorter deal and less per year.

I liked Jason Schmidt more than Zito for similar reasons (shorter committment) as well as better stuff, although he has lost a few MPH of his fastball the last two years. I'd probably put him behind the Zito/Pettitte duo right now though.

Ted Lilly was interesting to me at one point because I thought he could be had relatively cheaply (say 2 years, $10 million) but that doesn't look like the case now. He's probably about a league average starter, but he has a delivery that seems to prevent him from staying healthy.

Kerry Wood wouldn't be anything more than a flier at this point. I don't even know when he can pitch again, or how good he will be if he does. Tony Armas and Gil Meche both project to be below average rotation filler, although they have the talent to be somewhat better than that.

That list stinks. As you can see, Matsuzaka probably projects better than anyone on the list except Clemens. If I were the Yankees, I would try to avoid committing to any pitchers on the market long-term, especially with the contracts they already have locked up.

Oh yeah, one more option.





Update: Mark Mulder by request from George.



--posted at 8:25 AM by SG / |
---