---
DIPS Worksheets!
---
---
January 2001
April 2003
May 2003
June 2003
July 2003
August 2003
September 2003
October 2003
November 2003
December 2003
January 2004
February 2004
March 2004
April 2004
May 2004
June 2004
July 2004
August 2004
September 2004
October 2004
November 2004
December 2004
January 2005
February 2005
March 2005
April 2005
May 2005
June 2005
July 2005
August 2005
September 2005
October 2005
November 2005
December 2005
January 2006
February 2006
March 2006
April 2006
May 2006
June 2006
July 2006
August 2006
September 2006
October 2006
November 2006
December 2006
January 2007
February 2007
March 2007
April 2007
May 2007
---
LINKS
---
Yankees Sites and Columnists
Nomaas.org
---
General Baseball Sites & Columnists
At Home Plate
Rotoauthority.com
The Book Blog - Playing the Percentages in Baseball(Tango, MGL, Dolphin)
---
Yankees Blogs
Almost Perfect
Baby Bombers
Baseball Mania
Bronx Banter
Bugs and Cranks
Canyon of Heroes
Dugout News
Eephus Pitch
Here Comes Number 27
High and Tight
Lohud Yankees Blog
No Sense Worrying
Pinstripe Potentials
River Ave. Blues
Soft Hands
The Stat Boy of the Empire
Was Watching
Yankees Chick
Yankees Fans in Foreign Lands
Yanks Blog
---
Other Team Blogs
Anaheim Angels All the Way
Bucco Blog
San Francisco Giants Blog
Viva El Birdos
---
Look what people have to say about Larry Mahnken's commentary!
"Larry, can you be any more of a Yankee apologist?.... Just look past your Yankee myopia and try some objectivity."
- Bernal Diaz
"Mr. Mahnken is enlightened."
- cordially, as always,
rm
"Wow, Larry. You've produced 25% of the comments on this thread and said nothing meaningful. That's impressive, even for you."
- Anonymous
"After reading all your postings and daily weblog...I believe you have truly become the Phil Pepe of this generation. Now this is not necessarily a good thing."
- Repoz
"you blog sucks, it reeds as it was written by the queer son of mike lupica and roids clemens. i could write a better column by letting a monkey fuk a typewriter. i dont need no 181 million dollar team to write a blog fukkk the spankeees"
- yan
"i think his followers have a different sexual preference than most men"
- bob
"Boring and predictable."
- No Guru No Method
"Are you the biggest idiot ever?"
- Randal
"I'm not qualified to write for online media, let alone mainstream media."
- Larry Mahnken
---
This site is best viewed with a monitor.
Disclaimer: If you think this is the official website of the New York Yankees, you're an idiot. Go away.
October 2, 2006
---
by SG
It's ALDS preview time, as the Yankees will be taking on Detroit Tuesday night on FOX at 8 PM.

First up, here is a look at the position players on the 25 man playoff rosters. As I am wont to do, I'm using linear weights for offense and zone rating converted to runs for defense. BR is the player's total output above/below average on the season compared to others listed at the same position. DR are the defensive runs above/below average. For the bench players who played multiple positions, I've combined all their defensive numbers.




I've combined the lines for players who played for multiple teams. I've removed the defensive stats of Marcus Thames and Jason Giambi as their primary roles will be as DH. Matt Stairs was acquired post Sept 1 so I don't think he can be on the Tigers' post-season roster.

As you can see from this list, Detroit's is a much better defensive team than the Yankees, but overall they're not on the same level. The Yankees have the edge on a per game basis at C, 1B, 2B, LF, CF, RF, and DH, and the difference between Derek Jeter and Carlos Guillen is basically negligible. They Yankees have 8 of the top 9 players as far as total run value per game (based on this season's performance).

The Tigers' starting nine hit .280/.337/.458 compared to a league average of .275/.338/.437. It should be noted that they play in a pitcher's park, so this is not a bad overall line for them. As a team overall, their season OPS+ was 100, or exactly league average. The starting nine put up an OPS+ of around 105. That's around what Mike Lowell hit this season.

On the Tigers bench, they don't pack much offensive punch, although Chris Shelton may get a start against Randy Johnson in Game 3.

The Yankees' starting nine hit .299/.392/.499, which is the equivalent of an OPS+ of 129. That's around what Miguel Tejada had, with a bit less batting average and bit more OBP.

The Yankee bench isn't too bad this season for once, although I'm not sure how much time they'll get. Bernie would seem to be a good pinch-hitter against a lefty, but which lefty do you pinch hit for? Melky Cabrera will be there to back up all three OF and perhaps to spot Matsui for defense late in games. That is the right role for him. Matsui is right now the clearly superior player. Miguel Cairo will mainly just be around in case of an emergency, and I'd guess we'll see Andy Phillips replacing Sheffield in the 8th and 9th innings for defense. Hopefully, Sal Fasano doesn't get an AB.

On paper, it's a pretty clear position player edge for the Yanks.

Of course, there's the matter of pitching. First, a look at the starters. I'm using linear weights for the pitchers as well.





One thing about the chart above, I'm only using the pitchers' numbers as starters.

In Game 1, the Yankees seem to have a fairly good-sized edge. Chien-Ming Wang has been better than Nate Robertson in most measures this season except for strikeout rate. His ERC (component ERA) also indicates that his success to this point hasn't been fluky. I remain concerned about Wang's workload on the season, as he's thrown 218 innings this season after never topping 160 prior to this year, but I think/hope he'll be fine.

Robertson's a pretty good pitcher, and a fellow blogger, so I have a soft spot for him. Being left-handed is a slight advantage for him facing Abreu, Giambi, Cano, and Damon. I think he'll pitch reasonably well, but I doubt he'll shut the Yankees down completely or anything.

Game 2 seems like a very big edge for the Yankees by the numbers, but you never know with rookie pitchers that throw 100 mph. Justin Verlander's been solid for Detroit, and was rated as the AL starter with the highest average fastball velocity this season by Basebll Info Solutions. Fatigue seems to have caught up with him a bit recently, and Jim Leyland had him skip a start to rest him a bit. He has the stuff to dominate, although his BB rate is a touch below average which would seem to be a benefit for the Yankees.

Mike Mussina started the season out great, but has faltered a bit lately. He typically pitches well in the postseason, and his last start was very impressive (particularly his velocity, which was up to 91-92). I think Moose will be fine.

Game 3 is about as big of a tossup as you can get. Kenny Rogers didn't face the Yankees this season, but had a solid season, and amazingly did not push any cameramen. He's a lefty nibbler who has had pretty good control and a good HR rate but doesn't have much stuff. I think the Yankees could light him up.

Unfortunately, with Randy Johnson opposing him, they may have to. Johnson's got a herniated disk and had an epidural to relieve the pain he was feeling. In some ways, the fact that there is a physical explanation for Johnson's recent struggles is encouraging. The problem is if the epidural was done too late to rectify it. Johnson supposedly had a good BP session and is on target to pitch this game. He could be great, or he could be shelled. Hopefully the Yanks are up 2-0 when he pitches.

Johnson's had an odd season. If you look at his component ERA (3.80), he's been solid. The problem he's had is the hits and walks and HRs he's allowed have not come scattered, but tend to come in bunches, something ignored when looking a pitcher's peripherals. This is very likely a manifestation of his health issues, and probably likely to continue.

If Game 4 is needed, it'll be Jeremy Bonderman vs. Jaret Wright. If Game 4 is needed, the Yankees may be in trouble. Bonderman's another guy with a lot of talent who has tired in the season's homestretch, but he's a lot better than Wright.

That's a little harsh-sounding on Wright, who did a serviceable job this season and ended up a touch about average. His peripherals indicate that it's not likely to continue, but he was an important part of the rotation this season and was useful, even if he's a bit painful to watch at times.

And if Game 5 is needed, it'll be a rematch of Game 1.

So the Yankees seem to have a slight edge in the starting pitching with 3 out of 5 matchups being favorable, which is a bit surprising honestly. How about the bullpen?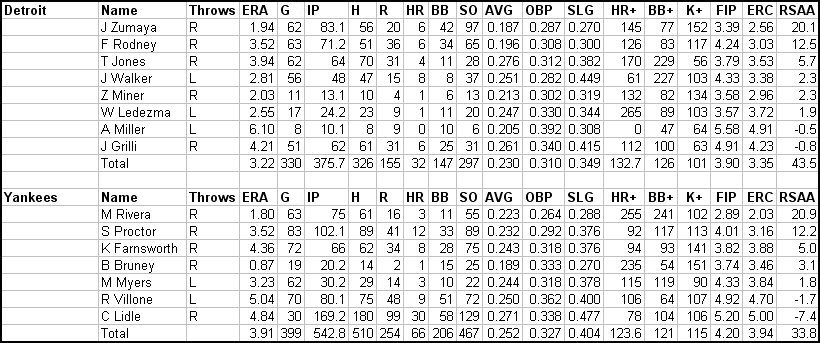 Joel Zumaya has been dominant out of Detroit's pen, but that below average walk rate seems to scream out as an advantage for the Yankees. Baseball Info Solutions rated him as the hardest throwing pitcher in baseball, with an average fastball velocity of 98+ MPH.

Fernando Rodney's been pretty solid as well. His season has been remarkably similar to Scott Proctor's, minus 20 appearances.

It's a rare bullpen where the closer is probably the third or fourth worst option, but that's where Todd Jones sits.

The Tigers also have two solid lefties in Jamie Walker and Wil Ledezma, who will be used in key spots to try and neutralize the Giambi/Abreu/Matsui/Cano/Damon contingent, which makes it imperative for Joe Torre to keep the lefties as separated as possible in the lineup. Zach Miner and Jason Grilli will round out the pen. Despite appearing in the chart above, Andrew Miller will not be a part of Detroit's bullpen.

The Detroit pen as listed above (minus Miller) has held opposing hitters to a line of .230/.308/.350, and saved 44 runs above average. This is the biggest strength on the team, and their only statistical advantage over the Yankees.

The Yankee bullpen starts and ends at the top, with Mariano Rivera. He appears to be healthy heading into the postseason, and he has had a lot of rest and has proclaimed that he is ready to do whatever is needed (pitch on back-to-back days, pitch two innings). He may have to, because the bridge to him is shaky.

Scott Proctor had a great season as the most used reliever in the American League(holy crap, Salomon Torres pitched in 94 games???). At this point, he's probably the Yankees second best reliever as long as he's got some juice left in his arm. Proctor pitched in 16 games in September, and pitched well, posting a 1.65 ERA over 16.1 innings, walking 3, and fanning 14, so if he's tired, it's not showing.

Someone on the Nomaas discussion board has coined Kyle Farnsworth "It is high, it is Far-nsworth". I can't disagree with that. At times he's unhittable, at other times he scares the crap out of me. While I don't think his past post-season results indicate some inability to pitch in the playoffs, I think his general inconsistency might. I guess we'll find out, but I'm not looking forward to it.

Brian Bruney brings a great fastball and bad command as the fourth RHP in the pen. Thankfully, patience is not a strength of the Tigers.

The Yankee pen is rounded out with Ron Villone, who had a great first half that led to many(including yours truly) whining about his lack of use, and an awful August and September that led to the same many (including yours truly) whining about him being used all the time. I think he's on the roster as more of a reward for a solid half season, and less in a role where he'll be expected to get many key outs. Detroit's heavily right-handed, so the Yankees don't need to worry about platoon advantages when they have Mike Myers on hand. Myers had a reverse platoon split this year, but I'm not ready to think that those 132 batters faced are more meaningful than the 2008 he had faced prior to this season. He'll likely be asked to come in to get Sean Casey or Curtis Granderson out, and that's about it. Cory Lidle will sit in the pen as well, in case any of the starters gets bombed.

All these numbers seem to indicate a classic mismatch. I'm not ready to go that far. Detroit's a good team in a great baseball town. They led arguably the toughest division in baseball almost all season. They're not just the team that went 26-30 over their last 56 games, they're also the team that went 71-35 over their first 106.

This is an organization that lost 119 games just three seasons ago. Their turnaround has been remarkable and a credit to all involved. I think they can beat the Yankees, and I wouldn't take them lightly. A great defensive team loaded with hard throwers can beat anyone if things break right.

But I don't think they will. Yankees in four.

Peter Abraham posted the Game 1 lineup on his fine blog.

Johnny Damon CF
Derek Jeter SS
Bobby Abreu RF
Gary Sheffield 1B
Jason Giambi DH
Alex Rodriguez 3B
Hideki Matsui LF
Jorge Posada C
Robinson Cano 2B

Rodriguez 6th? Interesting.
--posted at 7:05 PM by SG / |
---