by SG
NEW YORK -- Joe Torre settled on his 25-man roster for the American League Division Series, choosing Andy Phillips and Miguel Cairo to round out his bench.

In addition, Torre announced that Brian Bruney would be the final man in the bullpen, as the Yankees will take 11 pitchers into the opening round of the postseason.

New York will take seven infielders (Gary Sheffield, Jason Giambi, Robinson Cano, Derek Jeter, Alex Rodriguez, Cairo and Phillips), two catchers (Jorge Posada and Sal Fasano) and five outfielders (Hideki Matsui, Johnny Damon, Bobby Abreu, Bernie Williams and Melky Cabrera).

The 11 pitchers will be Chien-Ming Wang, Mike Mussina, Randy Johnson, Jaret Wright, Cory Lidle, Ron Villone, Bruney, Mike Myers, Scott Proctor, Kyle Farnsworth and Mariano Rivera. If Johnson's back injury causes him to miss his Game 3 start, the Yankees would leave him off the roster and add either Jeff Karstens, Darrell Rasner or Sean Henn.

The decision to take Phillips as the backup first baseman over Craig Wilson or Aaron Guiel had as much to do with Phillips' ability to play second and third base as his defense at first.

"We felt Phillips gave us the defense at first base," Torre said. "Plus, in the event we want to use Cairo as a pinch-runner, we have a backup infielder who can play third, second or first."


I can't say have much issue with any of the choices. While I'd rather see them take 10 pitchers and add Aaron Guiel or Craig Wilson, given Johnson's uncertain status taking 11 pitchers is the safer move.

Update: I saw this posted on Baseball Think Factory and thought it was interesting.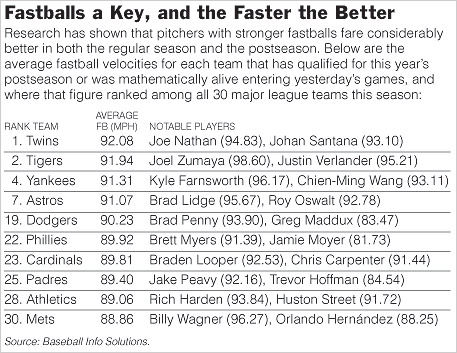 Another update: Since the batting race is the hot topic of the day, I'll keep the table below updated in real-time.


| Player | Today | AVG |
| --- | --- | --- |
| | 2-4 | .347 |
| | 1-5 | .343 |
| | 2-4 | .342 |
--posted at 11:00 PM by SG / |
---