---
DIPS Worksheets!
---
---
January 2001
April 2003
May 2003
June 2003
July 2003
August 2003
September 2003
October 2003
November 2003
December 2003
January 2004
February 2004
March 2004
April 2004
May 2004
June 2004
July 2004
August 2004
September 2004
October 2004
November 2004
December 2004
January 2005
February 2005
March 2005
April 2005
May 2005
June 2005
July 2005
August 2005
September 2005
October 2005
November 2005
December 2005
January 2006
February 2006
March 2006
April 2006
May 2006
June 2006
July 2006
August 2006
September 2006
October 2006
November 2006
December 2006
January 2007
February 2007
March 2007
April 2007
May 2007
---
LINKS
---
Yankees Sites and Columnists
Nomaas.org
---
General Baseball Sites & Columnists
At Home Plate
Rotoauthority.com
The Book Blog - Playing the Percentages in Baseball(Tango, MGL, Dolphin)
---
Yankees Blogs
Almost Perfect
Baby Bombers
Baseball Mania
Bronx Banter
Bugs and Cranks
Canyon of Heroes
Dugout News
Eephus Pitch
Here Comes Number 27
High and Tight
Lohud Yankees Blog
No Sense Worrying
Pinstripe Potentials
River Ave. Blues
Soft Hands
The Stat Boy of the Empire
Was Watching
Yankees Chick
Yankees Fans in Foreign Lands
Yanks Blog
---
Other Team Blogs
Anaheim Angels All the Way
Bucco Blog
San Francisco Giants Blog
Viva El Birdos
---
Look what people have to say about Larry Mahnken's commentary!
"Larry, can you be any more of a Yankee apologist?.... Just look past your Yankee myopia and try some objectivity."
- Bernal Diaz
"Mr. Mahnken is enlightened."
- cordially, as always,
rm
"Wow, Larry. You've produced 25% of the comments on this thread and said nothing meaningful. That's impressive, even for you."
- Anonymous
"After reading all your postings and daily weblog...I believe you have truly become the Phil Pepe of this generation. Now this is not necessarily a good thing."
- Repoz
"you blog sucks, it reeds as it was written by the queer son of mike lupica and roids clemens. i could write a better column by letting a monkey fuk a typewriter. i dont need no 181 million dollar team to write a blog fukkk the spankeees"
- yan
"i think his followers have a different sexual preference than most men"
- bob
"Boring and predictable."
- No Guru No Method
"Are you the biggest idiot ever?"
- Randal
"I'm not qualified to write for online media, let alone mainstream media."
- Larry Mahnken
---
This site is best viewed with a monitor.
Disclaimer: If you think this is the official website of the New York Yankees, you're an idiot. Go away.
September 1, 2006
---
by SG
The Yankees closed out August with a 6-4 win over Detroit yesterday at the Stadium. Yesterday's game also closed out a pretty rough section of the schedule, which Larry and I both took shots at projecting. I used Bill James's log5 method but slightly incorrectly, ending up with a projected record of 12-12. Larry made a few tweaks and re-ran it and got a projected record of 13-11, which ended up being exactly what the Yankees did.

So, I figured I'd run throught it once more for the rest of the season to see where the Yankees may end up, and who they might face in the playoffs, so I ran log5 for the Yanks, Tigers, Twins, and White Sox. Even though Boston's odds of taking the AL East are down to 0.5%, I'm keeping them in the mix too.

So here's where they are right now.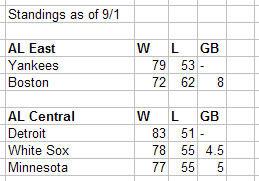 If we use log5 for each team's remaining games with their actual winning percentage, we get the following standings at the end of the season.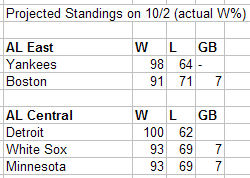 And if we run through it once more, this time using Pythagorean winning percentage, we get these standings.




It still looks like the Yankees have a decent shot at home field, especially if Detroit's struggles continue. I'd love to see Chicago and Minnesota tie for the wild card and have to play a playoff game against each other. It seems the AL East winner is going to get the wild card team, and the AL Central winner the AL West winner.

I think the Yankees are going to use their lead to rest people for the postseason, and I think it makes sense. I'd rather have a mostly healthy team going into the playoffs without home field advantage than a team with home field advantage and a lot of tired players.

September first means expanded rosters, and the Yankees are planning on calling up catcher Wil Nieves and pitchers T.J. Beam and Jose Veras today.

Andy Phillips is expected back from the DL over the weekend, and Darrell Rasner will start Sunday against Minnesota.
--posted at 8:07 AM by SG / |
---