---
DIPS Worksheets!
---
---
January 2001
April 2003
May 2003
June 2003
July 2003
August 2003
September 2003
October 2003
November 2003
December 2003
January 2004
February 2004
March 2004
April 2004
May 2004
June 2004
July 2004
August 2004
September 2004
October 2004
November 2004
December 2004
January 2005
February 2005
March 2005
April 2005
May 2005
June 2005
July 2005
August 2005
September 2005
October 2005
November 2005
December 2005
January 2006
February 2006
March 2006
April 2006
May 2006
June 2006
July 2006
August 2006
September 2006
October 2006
November 2006
December 2006
January 2007
February 2007
March 2007
April 2007
May 2007
---
LINKS
---
Yankees Sites and Columnists
Nomaas.org
---
General Baseball Sites & Columnists
At Home Plate
Rotoauthority.com
The Book Blog - Playing the Percentages in Baseball(Tango, MGL, Dolphin)
---
Yankees Blogs
Almost Perfect
Baby Bombers
Baseball Mania
Bronx Banter
Bugs and Cranks
Canyon of Heroes
Dugout News
Eephus Pitch
Here Comes Number 27
High and Tight
Lohud Yankees Blog
No Sense Worrying
Pinstripe Potentials
River Ave. Blues
Soft Hands
The Stat Boy of the Empire
Was Watching
Yankees Chick
Yankees Fans in Foreign Lands
Yanks Blog
---
Other Team Blogs
Anaheim Angels All the Way
Bucco Blog
San Francisco Giants Blog
Viva El Birdos
---
Look what people have to say about Larry Mahnken's commentary!
"Larry, can you be any more of a Yankee apologist?.... Just look past your Yankee myopia and try some objectivity."
- Bernal Diaz
"Mr. Mahnken is enlightened."
- cordially, as always,
rm
"Wow, Larry. You've produced 25% of the comments on this thread and said nothing meaningful. That's impressive, even for you."
- Anonymous
"After reading all your postings and daily weblog...I believe you have truly become the Phil Pepe of this generation. Now this is not necessarily a good thing."
- Repoz
"you blog sucks, it reeds as it was written by the queer son of mike lupica and roids clemens. i could write a better column by letting a monkey fuk a typewriter. i dont need no 181 million dollar team to write a blog fukkk the spankeees"
- yan
"i think his followers have a different sexual preference than most men"
- bob
"Boring and predictable."
- No Guru No Method
"Are you the biggest idiot ever?"
- Randal
"I'm not qualified to write for online media, let alone mainstream media."
- Larry Mahnken
---
This site is best viewed with a monitor.
Disclaimer: If you think this is the official website of the New York Yankees, you're an idiot. Go away.
September 14, 2006
---
by SG
After missing six weeks with a hamstring injury, Robinson Cano has come back with a venegance. In the 36 games since he's returned, he's hitting .361/.382/.611. Cano drove in five runs in last night's 8-4 victory over Tampa.

Let's look at some more numbers for Cano. Below is a list of all AL 2B who have 300 or more PA this season, and their offensive and defensive numbers.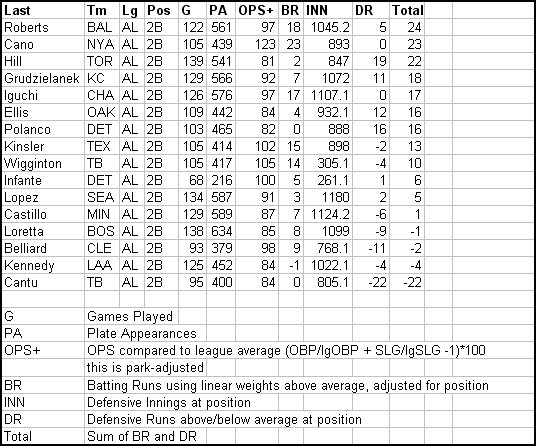 So, despite missing six weeks, Cano's been the most valuable offensive 2B in the American League, and second most valuable overall. How about if we pro-rate these stats to a full season? Since you asked...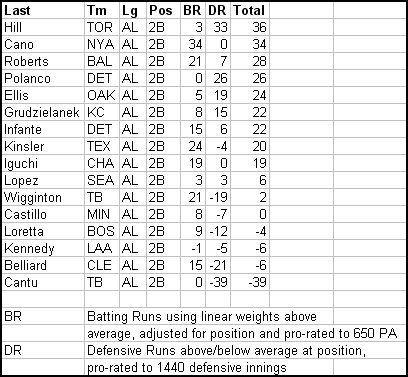 There are probably bigger error bars when pro-rating defense compared to offense, so take Aaron Hill's big defensive numbers with a grain of salt, although his career ZR at 2B is a pretty impressive .896. Anyway, the point is that Cano at age 23 is one of the better 2B in the AL. Chase Utley, Ray Durham, and Dan Uggla are probably having better seasons, but given the apparent disparity in talent between the AL and NL, I'm not sure how much of a direct comparison we can do.

Not bad for a guy who inspired the following scouting report in February 2005.


I guess I should have nominated Cano in the most overrated prospect thread the other day. That he still gets talked up as some kind of top prospect (not pointing at John here, by the way) amazes me.

I've seen Cano play a lot, and I'm not even sure he'd be a productive Triple-A player. Let's start with his defense; it's brutal. He has terrible footwork and simply lacks any kind of instincts around the bag. There's no way you want him playing up the middle. He might have the raw speed to not be awful in left field, but that's about as kind as I can be regarding his glovework.

Offensively, he's a fastball hitter. He sits dead red on every pitch and waits for a mistake. Any good breaking ball or offspeed pitch will have him out in front. He's mostly a gap hitter, lacking the power to drive the ball consistently over the wall. To add insult to injury, he's also a terrible baserunner.

In his prime, I think he could hit .280/.320/.400 while playing awful defense. Yipee.


.280/.320/.400, eh?

By request from English Jim, here are the same numbers for the National League.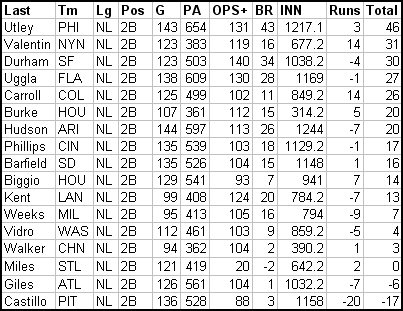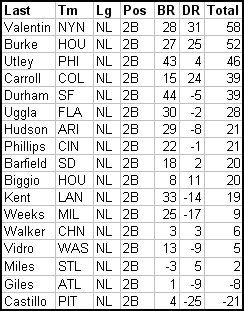 A win tonight knocks the magic number for the AL East down to six, and the Yankees will be in position to clinch against Boston over the weekend by winning three of the four scheduled games. We'll see if James Shields (6-7, 4.71) can hang with Wang (17-5, 3.60).
--posted at 9:09 AM by SG / |
---