---
DIPS Worksheets!
---
---
January 2001
April 2003
May 2003
June 2003
July 2003
August 2003
September 2003
October 2003
November 2003
December 2003
January 2004
February 2004
March 2004
April 2004
May 2004
June 2004
July 2004
August 2004
September 2004
October 2004
November 2004
December 2004
January 2005
February 2005
March 2005
April 2005
May 2005
June 2005
July 2005
August 2005
September 2005
October 2005
November 2005
December 2005
January 2006
February 2006
March 2006
April 2006
May 2006
June 2006
July 2006
August 2006
September 2006
October 2006
November 2006
December 2006
January 2007
February 2007
March 2007
April 2007
May 2007
---
LINKS
---
Yankees Sites and Columnists
Nomaas.org
---
General Baseball Sites & Columnists
At Home Plate
Rotoauthority.com
The Book Blog - Playing the Percentages in Baseball(Tango, MGL, Dolphin)
---
Yankees Blogs
Almost Perfect
Baby Bombers
Baseball Mania
Bronx Banter
Bugs and Cranks
Canyon of Heroes
Dugout News
Eephus Pitch
Here Comes Number 27
High and Tight
Lohud Yankees Blog
No Sense Worrying
Pinstripe Potentials
River Ave. Blues
Soft Hands
The Stat Boy of the Empire
Was Watching
Yankees Chick
Yankees Fans in Foreign Lands
Yanks Blog
---
Other Team Blogs
Anaheim Angels All the Way
Bucco Blog
San Francisco Giants Blog
Viva El Birdos
---
Look what people have to say about Larry Mahnken's commentary!
"Larry, can you be any more of a Yankee apologist?.... Just look past your Yankee myopia and try some objectivity."
- Bernal Diaz
"Mr. Mahnken is enlightened."
- cordially, as always,
rm
"Wow, Larry. You've produced 25% of the comments on this thread and said nothing meaningful. That's impressive, even for you."
- Anonymous
"After reading all your postings and daily weblog...I believe you have truly become the Phil Pepe of this generation. Now this is not necessarily a good thing."
- Repoz
"you blog sucks, it reeds as it was written by the queer son of mike lupica and roids clemens. i could write a better column by letting a monkey fuk a typewriter. i dont need no 181 million dollar team to write a blog fukkk the spankeees"
- yan
"i think his followers have a different sexual preference than most men"
- bob
"Boring and predictable."
- No Guru No Method
"Are you the biggest idiot ever?"
- Randal
"I'm not qualified to write for online media, let alone mainstream media."
- Larry Mahnken
---
This site is best viewed with a monitor.
Disclaimer: If you think this is the official website of the New York Yankees, you're an idiot. Go away.
August 24, 2006
---
by SG
West Coast trips are always a mixed bag for me. In some ways they bring back fond memories, like being in bed listening to an AM radio when I was supposed to be asleep as a kid, but they also bring back memories of some painful losses. Years later, and that hasn't changed. I stay up for almost every Yankee game on the West Coast. When they lose, I get really annoyed at myself for doing it, but when they win, like they did in last night's 9-2 victory, it doesn't seem so bad.

Despite scoring seven runs off the highly touted Felix Hernandez and two more off Joel Pineiro who relieved him, the hero of the game was Chien-Ming Wang. Wang had been pretty bad over his last three starts, pitching 16 1/3 innings, allowing 27 hits, 3 HRs, 8 BB, and 6 K. These starts coincided with Wang passing his career high for innings pitched in a season which was a concern for me. If I had to guess, Wang was going through a tired arm phase, as his stuff was flatter over those last three games. He had much better velocity last night, hitting 96-97 consistently on Seattle's broadcast and with a 90 mph slider with very good bite. As you can see from his pitch chart below, Wang was working up in the zone a lot more yesterday, which is not something he typically wants to do.




Pitching well against Seattle is not really that impressive. If you look at the OPS+ of the teams in the AL, they're 12th out of 14.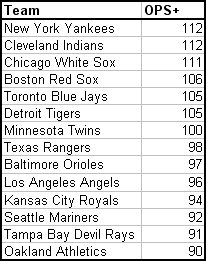 However, it was a good sign to see Wang getting over his recent struggles. I'd still like to see him get a bit of rest over the rest of the season if the Yankees can afford it, although Mike Mussina going to the DL complicates things.

On the offensive side, Bobby Abreu continues to excel, getting two hits and walking twice yesterday. After Johnny Damon and Derek Jeter made two outs on five pitches leading off the first, Abreu singled on the fifth pitch he saw, Jason Giambi worked a five pitch walk, and then Jorge Posada followed with an 8 pitch walk. Suddenly, an easy first inning had become a nightmare for Felix Hernandez, who then gave up a two run single to Robinson Cano. Cano went 2 for 4 with 3 RBI, and is hitting .343/.380 /.657 since returning from the DL.

Mike Myers and Octavio Dotel mopped up for Wang, and both were effective. I have no problem with Myers pitching to righties with a seven run lead. His motion is apparently easy on his arm so he's not a bad choice to use in mopup from time to time. Dotel also looked pretty good, although his control is still a little bit shaky.

On the injury front, as I mentioned earlier, Moose was DL'ed. I think this is smart, it's pretty apparent the groin has been bothering him for while lately. Hideki Matsui was cleared to hit off a batting tee, and Gary Sheffield is probably at least three weeks away from swinging a bat, which makes a return this season rather unlikely.

Randy Johnson (14-9, 4.98) vs. Jarrod Washburn (6-12, 4.43) tonight. RJ can pitch a good game at any time, but I never expect it.
--posted at 8:32 AM by SG / |
---