---
DIPS Worksheets!
---
---
January 2001
April 2003
May 2003
June 2003
July 2003
August 2003
September 2003
October 2003
November 2003
December 2003
January 2004
February 2004
March 2004
April 2004
May 2004
June 2004
July 2004
August 2004
September 2004
October 2004
November 2004
December 2004
January 2005
February 2005
March 2005
April 2005
May 2005
June 2005
July 2005
August 2005
September 2005
October 2005
November 2005
December 2005
January 2006
February 2006
March 2006
April 2006
May 2006
June 2006
July 2006
August 2006
September 2006
October 2006
November 2006
December 2006
January 2007
February 2007
March 2007
April 2007
May 2007
---
LINKS
---
Yankees Sites and Columnists
Nomaas.org
---
General Baseball Sites & Columnists
At Home Plate
Rotoauthority.com
The Book Blog - Playing the Percentages in Baseball(Tango, MGL, Dolphin)
---
Yankees Blogs
Almost Perfect
Baby Bombers
Baseball Mania
Bronx Banter
Bugs and Cranks
Canyon of Heroes
Dugout News
Eephus Pitch
Here Comes Number 27
High and Tight
Lohud Yankees Blog
No Sense Worrying
Pinstripe Potentials
River Ave. Blues
Soft Hands
The Stat Boy of the Empire
Was Watching
Yankees Chick
Yankees Fans in Foreign Lands
Yanks Blog
---
Other Team Blogs
Anaheim Angels All the Way
Bucco Blog
San Francisco Giants Blog
Viva El Birdos
---
Look what people have to say about Larry Mahnken's commentary!
"Larry, can you be any more of a Yankee apologist?.... Just look past your Yankee myopia and try some objectivity."
- Bernal Diaz
"Mr. Mahnken is enlightened."
- cordially, as always,
rm
"Wow, Larry. You've produced 25% of the comments on this thread and said nothing meaningful. That's impressive, even for you."
- Anonymous
"After reading all your postings and daily weblog...I believe you have truly become the Phil Pepe of this generation. Now this is not necessarily a good thing."
- Repoz
"you blog sucks, it reeds as it was written by the queer son of mike lupica and roids clemens. i could write a better column by letting a monkey fuk a typewriter. i dont need no 181 million dollar team to write a blog fukkk the spankeees"
- yan
"i think his followers have a different sexual preference than most men"
- bob
"Boring and predictable."
- No Guru No Method
"Are you the biggest idiot ever?"
- Randal
"I'm not qualified to write for online media, let alone mainstream media."
- Larry Mahnken
---
This site is best viewed with a monitor.
Disclaimer: If you think this is the official website of the New York Yankees, you're an idiot. Go away.
August 3, 2006
---
by SG
The Yankees won their third consecutive game last night, trouncing the Blue Jays 7-2. the star of the game was unquestionably the fireballing right-hander from Tainan, Taiwan, Chien-Ming Wang.

Wang had some control issues early in the game, walking three in the second inning. A lot of that had to do with a tight strike zone, although home plate ump Bruce Dreckman was consistent with both pitchers and throughout the game. Wang had his best fastball of the season, sitting at 95-96 for much of the game and even reaching 98 on one pitch. The other adjustment that I noticed was that he was mixing in more off-speed pitches, which I think he was doing due to his struggles against Toronto the last time they faced him.

Wang pitched eight shutout innings, running his scoreless inning streak to 18 and lowering his ERA on the season to 3.58.

Here are some numbers on Wang (rank in the AL amongst starters who've pitched 90 innings or more in parenthesis).

Innings: 156 (2nd)
ERA+: 127 (9th)
Runs saved above average: 20 (6th)
Opponent OBP: .310 (15th)
Opponent SLG: .346 (3rd)
HR+: 231 (2nd, to Jaret Wright?????!!!)

Update: Here's the full list of AL pitchers who've pitched 90 innings or more ranked by Runs saved above average




To this point, Wang is one of the best pitchers in the AL. His K rate is historically low, and it still remains a source of concern going forward, but we now have 272 innings in the majors and a career ERA of 3.77 with a low K rate, and Wang keeps on keeping on. At some point he has to go from a fluke to an outlier.

I also think that there's never been a pitcher with a K rate as low as Wang who had the kind of dynamite stuff that he has. Stuff counts.

Wang continues to save the bullpen with his starts also, which has team value that's not reflected in his own stat line. That also counts. Right now, I think he's a legitimate number 2 starter, and a borderline number one.

This is pretty cool (well, I think it is at least). Wang's pitch chart from yesterday. Notice how only five pitches were above waist-level.





New Yanks Bobby Abreu and Craig Wilson both chipped in two hits, and Derek Jeter continues to just hit. Since July first, Jeter's hitting an amazing .413/.441/.587. He's on pace to end the season with 215 hits, 40 2B, 12 HR, 102 RBI, and 35 steals in 38 attempts. He's having an MVP caliber season on offense. Here are the AL leaders in offensive position-adjusted linear weights.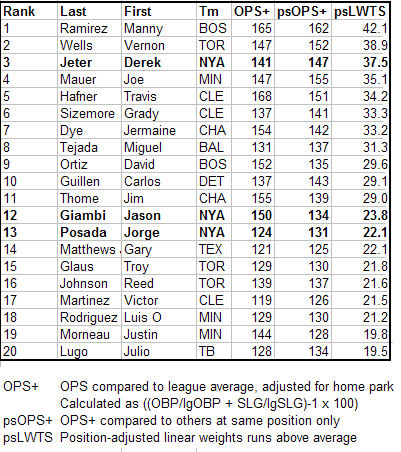 Jeter's right there, especially when you don't factor in defense. If he can get to 100 RBI and up the HRs a bit, he's going to get some votes. His HR last night was stung the other way to right-center, so the power is there.

If Eric Wedge wasn't a horse's ass, the Yankees would have picked up a game on Boston. Unfortunately, he is a horse's ass, and the Yankees did not pick up a game.

It's House Money Day™ and a day game today. Sean Marcum (1-0, 4.81) vs. Cory Lidle, making his Yankee debut, 1:05 PM ET.
--posted at 9:12 AM by SG / |
---