---
DIPS Worksheets!
---
---
January 2001
April 2003
May 2003
June 2003
July 2003
August 2003
September 2003
October 2003
November 2003
December 2003
January 2004
February 2004
March 2004
April 2004
May 2004
June 2004
July 2004
August 2004
September 2004
October 2004
November 2004
December 2004
January 2005
February 2005
March 2005
April 2005
May 2005
June 2005
July 2005
August 2005
September 2005
October 2005
November 2005
December 2005
January 2006
February 2006
March 2006
April 2006
May 2006
June 2006
July 2006
August 2006
September 2006
October 2006
November 2006
December 2006
January 2007
February 2007
March 2007
April 2007
May 2007
---
LINKS
---
Yankees Sites and Columnists
Nomaas.org
---
General Baseball Sites & Columnists
At Home Plate
Rotoauthority.com
The Book Blog - Playing the Percentages in Baseball(Tango, MGL, Dolphin)
---
Yankees Blogs
Almost Perfect
Baby Bombers
Baseball Mania
Bronx Banter
Bugs and Cranks
Canyon of Heroes
Dugout News
Eephus Pitch
Here Comes Number 27
High and Tight
Lohud Yankees Blog
No Sense Worrying
Pinstripe Potentials
River Ave. Blues
Soft Hands
The Stat Boy of the Empire
Was Watching
Yankees Chick
Yankees Fans in Foreign Lands
Yanks Blog
---
Other Team Blogs
Anaheim Angels All the Way
Bucco Blog
San Francisco Giants Blog
Viva El Birdos
---
Look what people have to say about Larry Mahnken's commentary!
"Larry, can you be any more of a Yankee apologist?.... Just look past your Yankee myopia and try some objectivity."
- Bernal Diaz
"Mr. Mahnken is enlightened."
- cordially, as always,
rm
"Wow, Larry. You've produced 25% of the comments on this thread and said nothing meaningful. That's impressive, even for you."
- Anonymous
"After reading all your postings and daily weblog...I believe you have truly become the Phil Pepe of this generation. Now this is not necessarily a good thing."
- Repoz
"you blog sucks, it reeds as it was written by the queer son of mike lupica and roids clemens. i could write a better column by letting a monkey fuk a typewriter. i dont need no 181 million dollar team to write a blog fukkk the spankeees"
- yan
"i think his followers have a different sexual preference than most men"
- bob
"Boring and predictable."
- No Guru No Method
"Are you the biggest idiot ever?"
- Randal
"I'm not qualified to write for online media, let alone mainstream media."
- Larry Mahnken
---
This site is best viewed with a monitor.
Disclaimer: If you think this is the official website of the New York Yankees, you're an idiot. Go away.
August 25, 2006
---
by SG
Randy Johnson disappointed again last night, leading the Yankees to a 4-2 loss and a series loss to the awful Seattle Mariners. In other news, grass is green, and the sky is blue.

To me, Johnson is the poster child of the problems inherent when you do not develop enough of your own talent.

The Yankees traded for and are paying for this guy.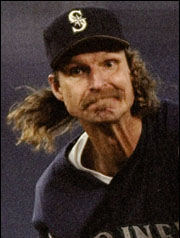 Unfortunately, they've gotten this guy.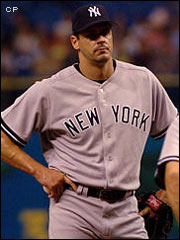 They're stuck with him for the rest of this season and next year, so I hope he will be useful most of the time, but I really can't wait for him to be off the team. At least he gave the bullpen a rare night off. Maybe they should make Johnson pitch a complete game every time out.

The Yankee offense wasn't much better last night, as Johan Santana Jarrod Washburn toyed with their hitters for 6.1 innings and Seattle's bullpen followed up with 2.1 perfect innings.

So yeah, Seattle sucks, and had lost 11 straight games before beating the Yankees in two out of three games. I was expecting a letdown after an emotionally draining series with Boston (where the Yankees swept five games) followed by a long flight to the West Coast. Any day where the magic number doesn't go down is not a good day, but the Yankees have the breathing room to let that happen once in a while. Hopefully they don't make a habit of it.

On to Anaheim, and the Angels, who are number two on my list of most hated teams. Losing two out of three to Boston at home didn't help their ranking either. If the Yankees don't want to lose to them in the playoffs, they'd be best served by beating them this weekend. Here are your matchups:

Friday
J. Wright (9-7, 4.63) vs. J. Lackey (10-9, 3.52)

I think it's safe to skip watching this one.

Saturday
C. Lidle (2-2, 2.82) vs. E. Santana (12-6, 4.28)

Sunday
J. Karstens (0-0, 4.76) vs. J. Saunders (4-1, 3.06)

I hate all three matchups. Angels will sweep.
--posted at 9:03 AM by SG / |
---