---
DIPS Worksheets!
---
---
January 2001
April 2003
May 2003
June 2003
July 2003
August 2003
September 2003
October 2003
November 2003
December 2003
January 2004
February 2004
March 2004
April 2004
May 2004
June 2004
July 2004
August 2004
September 2004
October 2004
November 2004
December 2004
January 2005
February 2005
March 2005
April 2005
May 2005
June 2005
July 2005
August 2005
September 2005
October 2005
November 2005
December 2005
January 2006
February 2006
March 2006
April 2006
May 2006
June 2006
July 2006
August 2006
September 2006
October 2006
November 2006
December 2006
January 2007
February 2007
March 2007
April 2007
May 2007
---
LINKS
---
Yankees Sites and Columnists
Nomaas.org
---
General Baseball Sites & Columnists
At Home Plate
Rotoauthority.com
The Book Blog - Playing the Percentages in Baseball(Tango, MGL, Dolphin)
---
Yankees Blogs
Almost Perfect
Baby Bombers
Baseball Mania
Bronx Banter
Bugs and Cranks
Canyon of Heroes
Dugout News
Eephus Pitch
Here Comes Number 27
High and Tight
Lohud Yankees Blog
No Sense Worrying
Pinstripe Potentials
River Ave. Blues
Soft Hands
The Stat Boy of the Empire
Was Watching
Yankees Chick
Yankees Fans in Foreign Lands
Yanks Blog
---
Other Team Blogs
Anaheim Angels All the Way
Bucco Blog
San Francisco Giants Blog
Viva El Birdos
---
Look what people have to say about Larry Mahnken's commentary!
"Larry, can you be any more of a Yankee apologist?.... Just look past your Yankee myopia and try some objectivity."
- Bernal Diaz
"Mr. Mahnken is enlightened."
- cordially, as always,
rm
"Wow, Larry. You've produced 25% of the comments on this thread and said nothing meaningful. That's impressive, even for you."
- Anonymous
"After reading all your postings and daily weblog...I believe you have truly become the Phil Pepe of this generation. Now this is not necessarily a good thing."
- Repoz
"you blog sucks, it reeds as it was written by the queer son of mike lupica and roids clemens. i could write a better column by letting a monkey fuk a typewriter. i dont need no 181 million dollar team to write a blog fukkk the spankeees"
- yan
"i think his followers have a different sexual preference than most men"
- bob
"Boring and predictable."
- No Guru No Method
"Are you the biggest idiot ever?"
- Randal
"I'm not qualified to write for online media, let alone mainstream media."
- Larry Mahnken
---
This site is best viewed with a monitor.
Disclaimer: If you think this is the official website of the New York Yankees, you're an idiot. Go away.
August 17, 2006
---
by SG
It's finally here, the series that most of us have been thinking about for the past few weeks. The Yankees are coming into this series on a down note, getting thrashed by Baltimore 12-2. The Yankees head to Fenway to play five games in four days, beginning with a doubleheader. Since this is primarily a sabermetric blog, it's time for math. First, here's a comparison of the primary starters for both teams as of right now, based on their performance to date, using linear weights for offense, and zone rating converted to runs for defense.




Now that I've presented these, let me talk about the limitations of these numbers first. First and foremost, we shouldn't just look at this year's performances when trying to gauge a player's true talent, so keep in mind a player's historic performance as well as other factors that may be impacting their ability right now, such as injuries, etc., Another issue is that fielding metrics are imprecise and should not be taken as gospel. In particular, I think Manny Ramirez gets unfairly penalized in zone rating due to the Green Monster. Zone rating is supposed to be park-adjusted, but I did a quick check of Red Sox LF since 1987, and they averaged a -21 per season. That indicated a park bias to me.

With those disclaimers out of the way, the numbers are certainly interesting. The Yankees as presently constituted have the edge at five of the nine positions, and it's fairly significant. This doesn't factor in things like the bench or matchups, but it's pretty encouraging to see anyway. Indications are that Jason Giambi will see some time at first in this series so his negative defensive value should also be considered (-9 on the season, -31 per 162 games).

Of course, positions players are just part of the equation. We also need to consider the pitching.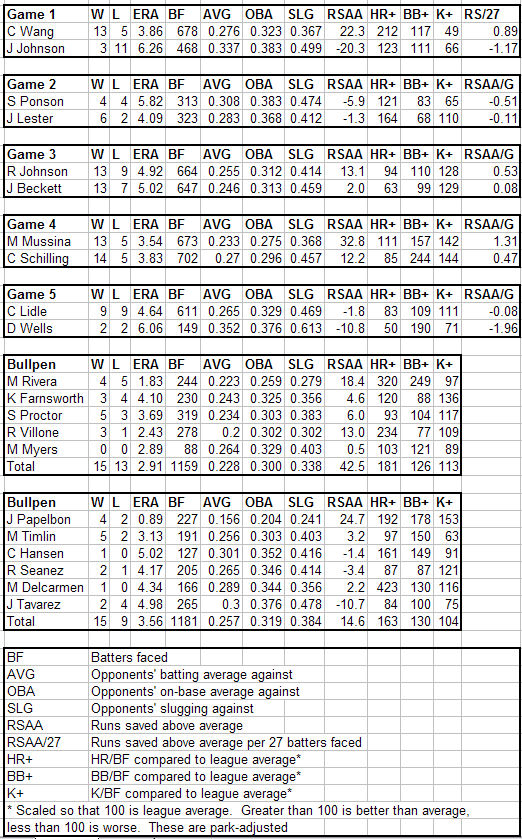 I've lined the pitchers up by the expected matchups. I'm using linear weights for calculating runs saved above average, and am comparing starters to starters only, and relievers to relievers only. The last column for the starters is runs saved above average per 27 batters faced, which I've concocted as a rough estimate of the value a starter would provide in a typical start.

The Yankees would appear to have the edge in four of the five pitching matchups, which is more good news. They also seem to have a pretty significant edge in the bullpen. I didn't include Octavio Dotel or Brian Bruney as their sample size this season is basically meaningless and they most likely will not see any action in meaningful spots.

What does it all mean? Not that much unfortunately. Anything can happen in a short series, and the bullpens may be stretched thin between the doubleheader and the Yankees' starters inability to go deep into games with any regularity. Based on these numbers, I'm fairly convinced the Yankees are the more talented team right now, but then again, they were more talented than the Orioles too. They're also going to be in Boston, where the Red Sox have won at a 67% clip, compared to their 49% winning percentage on the road.

The Yankees have a 1.5 game lead in the standings, 2 games in the loss column. Here is what we're looking at based on the possible series outcomes.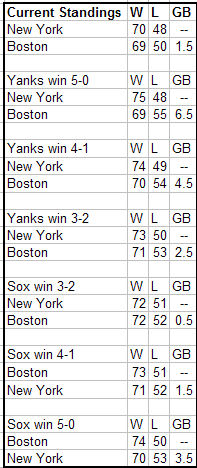 Frankly, I don't know what's going to happen. I'm a pessimist, so I'm planning for a Red Sox sweep. Then, any other outcome won't seem so bad.

On a completely unrelated note, Tyler Clippard pitched a no-hitter tonight for AA Trenton.
--posted at 10:15 PM by SG / |
---