---
DIPS Worksheets!
---
---
January 2001
April 2003
May 2003
June 2003
July 2003
August 2003
September 2003
October 2003
November 2003
December 2003
January 2004
February 2004
March 2004
April 2004
May 2004
June 2004
July 2004
August 2004
September 2004
October 2004
November 2004
December 2004
January 2005
February 2005
March 2005
April 2005
May 2005
June 2005
July 2005
August 2005
September 2005
October 2005
November 2005
December 2005
January 2006
February 2006
March 2006
April 2006
May 2006
June 2006
July 2006
August 2006
September 2006
October 2006
November 2006
December 2006
January 2007
February 2007
March 2007
April 2007
May 2007
---
LINKS
---
Yankees Sites and Columnists
Nomaas.org
---
General Baseball Sites & Columnists
At Home Plate
Rotoauthority.com
The Book Blog - Playing the Percentages in Baseball(Tango, MGL, Dolphin)
---
Yankees Blogs
Almost Perfect
Baby Bombers
Baseball Mania
Bronx Banter
Bugs and Cranks
Canyon of Heroes
Dugout News
Eephus Pitch
Here Comes Number 27
High and Tight
Lohud Yankees Blog
No Sense Worrying
Pinstripe Potentials
River Ave. Blues
Soft Hands
The Stat Boy of the Empire
Was Watching
Yankees Chick
Yankees Fans in Foreign Lands
Yanks Blog
---
Other Team Blogs
Anaheim Angels All the Way
Bucco Blog
San Francisco Giants Blog
Viva El Birdos
---
Look what people have to say about Larry Mahnken's commentary!
"Larry, can you be any more of a Yankee apologist?.... Just look past your Yankee myopia and try some objectivity."
- Bernal Diaz
"Mr. Mahnken is enlightened."
- cordially, as always,
rm
"Wow, Larry. You've produced 25% of the comments on this thread and said nothing meaningful. That's impressive, even for you."
- Anonymous
"After reading all your postings and daily weblog...I believe you have truly become the Phil Pepe of this generation. Now this is not necessarily a good thing."
- Repoz
"you blog sucks, it reeds as it was written by the queer son of mike lupica and roids clemens. i could write a better column by letting a monkey fuk a typewriter. i dont need no 181 million dollar team to write a blog fukkk the spankeees"
- yan
"i think his followers have a different sexual preference than most men"
- bob
"Boring and predictable."
- No Guru No Method
"Are you the biggest idiot ever?"
- Randal
"I'm not qualified to write for online media, let alone mainstream media."
- Larry Mahnken
---
This site is best viewed with a monitor.
Disclaimer: If you think this is the official website of the New York Yankees, you're an idiot. Go away.
June 30, 2006
---
by SG
As has probably been painfully obvious to the regular readers here, I've been obsessed with defense lately. while I still think there is a long way to go with tracking defense and it is almost impossible to quantify a player's true defensive talent, that hasn't stopped many from trying, including yours truly.

One thing that really spurred my interested in defense was last season's performance by Alex Rodriguez. Rodriguez had a rough first half before improving greatly in the second half. Unfortunately, that Zone Rating statistic that is free and publically available is not recorded in splits, but as a year-to-date total.

I've talked a lot about Zone Rating in this space over the past few months, but I'm not sure I've ever really give a compete description of it and I am sure many of you are too lazy to click on the links I've provided that give more background on it.

Chris Dial over at Baseball Think Factory wrote the clearest and most understandable explanation of zone rating that I've seen. I encourage everyone to go take a look at it if you want to understand the next part of this post.

So, anyhow, I decided that I wanted to see how players performed defensively over the course of the season, and I wanted this information to be broken down on a weekly basis. Therefore, I've been recording the ZR of all the players in the majors at the end of every week of the season so far. I have no idea how useful this will end up being, but at least I'll have it.

After 12 weeks, I thought I'd look at a couple of Yankees, namely the left side of the infield. I've plotted their ZR by week below in comparison to the league average at their position at the same point.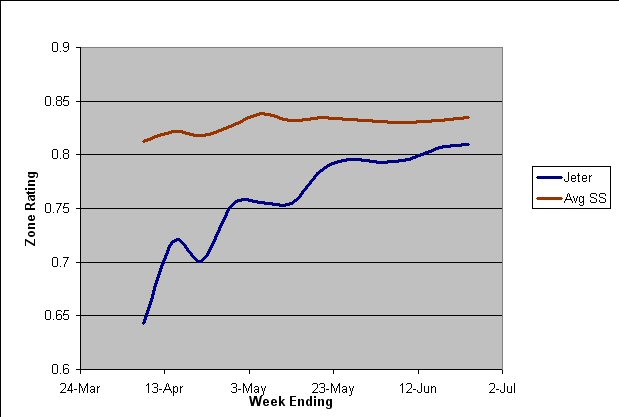 I thought this was interesting. Jeter started off very poorly and has slowly improved defensively. He's still below average, but not nearly as bad as he started.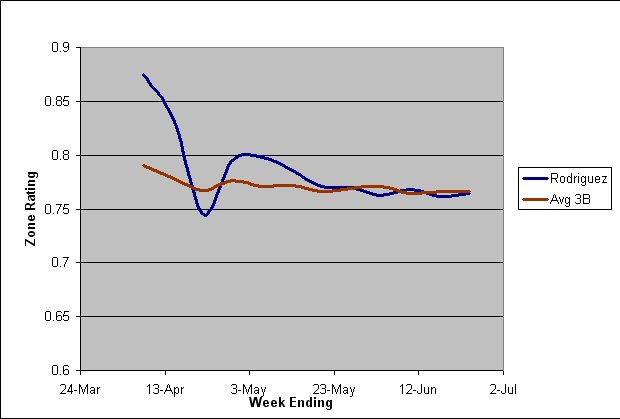 Much like his hitting, Rodriguez's defense has been somewhat inconsistent. Right now he's about average, which while better than last year is still a little disappointing.

If anyone finds this useful or wants to see any other players let me know.

Update: Added Melky in LF and Bernie in RF by request from Brent




The Yankees get the "Mighty" Mets now, who are fresh off getting their asses handed to them by the Red Sox. Way to step up Mets. The pitching matchups:

Friday
O. Hernandez (4-7, 5.82) vs. M. Mussina (9-3, 3.28)

Saturday
S. Trachsel (6-4, 4.82) vs. R. Johnson (9-6, 4.84)

Sunday
A. Soler (2-2, 4.68) vs.J. Wright (4-5, 4.18)

Those matchups seem to heavily favor the Yankees, which probably means they'll get swept. 2 out of 3 doesn't seem like enough to me, so let's hope for a sweep by the real Kings of New York.
--posted at 9:08 AM by SG / |
---