---
DIPS Worksheets!
---
---
January 2001
April 2003
May 2003
June 2003
July 2003
August 2003
September 2003
October 2003
November 2003
December 2003
January 2004
February 2004
March 2004
April 2004
May 2004
June 2004
July 2004
August 2004
September 2004
October 2004
November 2004
December 2004
January 2005
February 2005
March 2005
April 2005
May 2005
June 2005
July 2005
August 2005
September 2005
October 2005
November 2005
December 2005
January 2006
February 2006
March 2006
April 2006
May 2006
June 2006
July 2006
August 2006
September 2006
October 2006
November 2006
December 2006
January 2007
February 2007
March 2007
April 2007
May 2007
---
LINKS
---
Yankees Sites and Columnists
Nomaas.org
---
General Baseball Sites & Columnists
At Home Plate
Rotoauthority.com
The Book Blog - Playing the Percentages in Baseball(Tango, MGL, Dolphin)
---
Yankees Blogs
Almost Perfect
Baby Bombers
Baseball Mania
Bronx Banter
Bugs and Cranks
Canyon of Heroes
Dugout News
Eephus Pitch
Here Comes Number 27
High and Tight
Lohud Yankees Blog
No Sense Worrying
Pinstripe Potentials
River Ave. Blues
Soft Hands
The Stat Boy of the Empire
Was Watching
Yankees Chick
Yankees Fans in Foreign Lands
Yanks Blog
---
Other Team Blogs
Anaheim Angels All the Way
Bucco Blog
San Francisco Giants Blog
Viva El Birdos
---
Look what people have to say about Larry Mahnken's commentary!
"Larry, can you be any more of a Yankee apologist?.... Just look past your Yankee myopia and try some objectivity."
- Bernal Diaz
"Mr. Mahnken is enlightened."
- cordially, as always,
rm
"Wow, Larry. You've produced 25% of the comments on this thread and said nothing meaningful. That's impressive, even for you."
- Anonymous
"After reading all your postings and daily weblog...I believe you have truly become the Phil Pepe of this generation. Now this is not necessarily a good thing."
- Repoz
"you blog sucks, it reeds as it was written by the queer son of mike lupica and roids clemens. i could write a better column by letting a monkey fuk a typewriter. i dont need no 181 million dollar team to write a blog fukkk the spankeees"
- yan
"i think his followers have a different sexual preference than most men"
- bob
"Boring and predictable."
- No Guru No Method
"Are you the biggest idiot ever?"
- Randal
"I'm not qualified to write for online media, let alone mainstream media."
- Larry Mahnken
---
This site is best viewed with a monitor.
Disclaimer: If you think this is the official website of the New York Yankees, you're an idiot. Go away.
June 20, 2006
---
by SG
On June 7, the Yankees were 35-22 and 1.5 games in front in the AL East. Since then, they've lost 8 of 11 games and dropped 3 games in the standing after last night's 4-2 loss to a Philadelphia Phillies team that had lost 8 of its last 10 games.

It's been a stretch of frustrating games and losses, but it's hard to pinpoint exactly where the problem is, so here are the team's splits over that stretch.




Melkymania is no longer running wild, as Melky Cabrera's slumped severely. Robinson Cano seems to be hitting extremely well, until you realize that he has come to bat with 30 runners on during this stretch. He has driven in 3 of them (2 of his 5 RBI are his own runs on HRs that he hit). Jason Giambi and Johnny Damon are hitting for power but not getting on base at an acceptable rate, and Derek Jeter is also basically a singles hitter right now. Alex Rodriguez was slumping through most of this stretch as well and drove in 4 of the 26 runners on base that he has seen.





The starters are averaging 5.9 innings a game, which is killing the bullpen. Wang has been the only starter who's pitched consistently well, although Moose appears to be a victim of bad luck lately.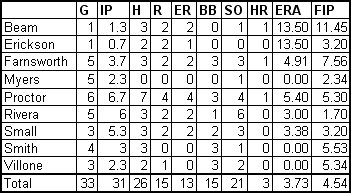 I was surprised to see that the pen has an ERA of 3.73 over this stretch. Joe Torre continues to overuse Scott Proctor whose performance no longer warrants it, while Ron Villone waits for extra innings that never happen.

It's a bad stretch, but I'm not ready to jump off the ledge yet. Randy Johnson pitched another good game last night, and if he can pitch 7 innings and allow 3 runs most of the time the team will be in decent shape.

Despite what is being described as mild tendinitis, Octavio Dotel is close to joining the Yankees.

Dotel consulted with Dr. James Andrews, the orthopedist that performed the surgery, and Andrews told him that this was normal for any pitcher working his way back from elbow surgery.

That reinforcement was comforting for Dotel, but not comforting enough to erase any concerns from his mind.

"You have to worry about it; you're coming off Tommy John surgery, and it's not an easy surgery," Dotel said. "The day after I pitched, when I woke up and had that feeling, that night I didn't sleep. I kept thinking, 'Now what?'"

Apparently, the Yankees' Minor League medical staff wasn't concerned enough by the tendinitis to send him for any additional tests. He will receive treatment from the Yankees' training staff for the next three days before heading to Trenton on Thursday.


I'm not expecting Dotel to be a savior. I'm just hoping he can be better than Proctor and ease the workload on Kyle Farnsworth.

Interleague play still sucks, too.
--posted at 9:54 AM by SG / |
---