---
DIPS Worksheets!
---
---
January 2001
April 2003
May 2003
June 2003
July 2003
August 2003
September 2003
October 2003
November 2003
December 2003
January 2004
February 2004
March 2004
April 2004
May 2004
June 2004
July 2004
August 2004
September 2004
October 2004
November 2004
December 2004
January 2005
February 2005
March 2005
April 2005
May 2005
June 2005
July 2005
August 2005
September 2005
October 2005
November 2005
December 2005
January 2006
February 2006
March 2006
April 2006
May 2006
June 2006
July 2006
August 2006
September 2006
October 2006
November 2006
December 2006
January 2007
February 2007
March 2007
April 2007
May 2007
---
LINKS
---
Yankees Sites and Columnists
Nomaas.org
---
General Baseball Sites & Columnists
At Home Plate
Rotoauthority.com
The Book Blog - Playing the Percentages in Baseball(Tango, MGL, Dolphin)
---
Yankees Blogs
Almost Perfect
Baby Bombers
Baseball Mania
Bronx Banter
Bugs and Cranks
Canyon of Heroes
Dugout News
Eephus Pitch
Here Comes Number 27
High and Tight
Lohud Yankees Blog
No Sense Worrying
Pinstripe Potentials
River Ave. Blues
Soft Hands
The Stat Boy of the Empire
Was Watching
Yankees Chick
Yankees Fans in Foreign Lands
Yanks Blog
---
Other Team Blogs
Anaheim Angels All the Way
Bucco Blog
San Francisco Giants Blog
Viva El Birdos
---
Look what people have to say about Larry Mahnken's commentary!
"Larry, can you be any more of a Yankee apologist?.... Just look past your Yankee myopia and try some objectivity."
- Bernal Diaz
"Mr. Mahnken is enlightened."
- cordially, as always,
rm
"Wow, Larry. You've produced 25% of the comments on this thread and said nothing meaningful. That's impressive, even for you."
- Anonymous
"After reading all your postings and daily weblog...I believe you have truly become the Phil Pepe of this generation. Now this is not necessarily a good thing."
- Repoz
"you blog sucks, it reeds as it was written by the queer son of mike lupica and roids clemens. i could write a better column by letting a monkey fuk a typewriter. i dont need no 181 million dollar team to write a blog fukkk the spankeees"
- yan
"i think his followers have a different sexual preference than most men"
- bob
"Boring and predictable."
- No Guru No Method
"Are you the biggest idiot ever?"
- Randal
"I'm not qualified to write for online media, let alone mainstream media."
- Larry Mahnken
---
This site is best viewed with a monitor.
Disclaimer: If you think this is the official website of the New York Yankees, you're an idiot. Go away.
June 12, 2006
---
by SG
I don't have much to say about the Yankees right now, mired in a four game losing streak. With the amount of injuries they've suffered to this point, a streak like this was inevitable, but hopefully they can get Jason Giambi back tomorrow and continue dumping the problem people from the roster. With the demise of Scott Erickson, it is time to set up a new watch. I'm leaning towards Aaron Small, since I don't have the heart to disrepect Bernie Williams after all he's done for the Yankees over the year. I must say that I was very happily surprised to see them go with the unproven Matt Smith over the veteran-ness of Erickson. A rare case of talent prevailing over experience in Yankee-land, and hopefully a good sign going forward.

I pretty much write about only the Yankees here, which I suppose makes some sense since this is a Yankee blog and all, but I thought it may be interesting to some to look at how some other players in the AL have been playing defensively this season using the Zone Rating system that I have been using to evaluate defense, which is a combination of the systems devised by Chris Dial and Sean Smith over at Baseball Think Factory. Below are the defensive stats for all players who have played at least 200 innings at a position so far this season for the only league that matters.

In the charts below, YTD INN and Runs are actual innings played and runs above/below average. R/150 is the amount of runs the player would save over 150 games, and Pace INN and Runs are what the player is on pace for based on their playing time to this point.




Not much of a surprise that Jason Giambi is the worst defensive 1B in the AL on a rate basis, although ZR does not measure all the various aspects of playing 1B, primarily scooping ability.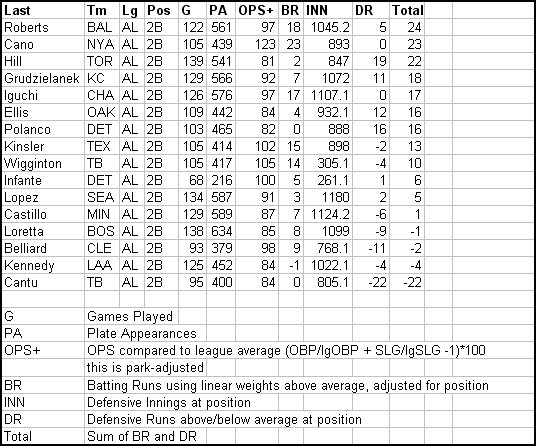 Robinson Cano has fallen off a bit from his earlier pace, when he was around +12, but he's still slightly above average.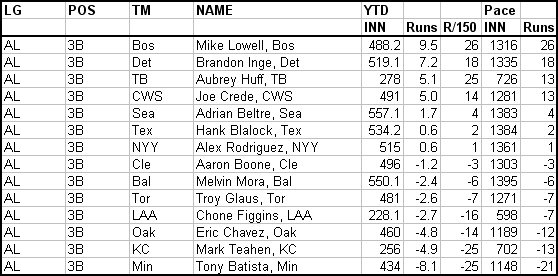 Mike Lowell is going to make the Red Sox front office luck into looking like geniuses, isn't he? Alex Rodriguez has had a rough few weeks defensively, he was on a +10 pace last month.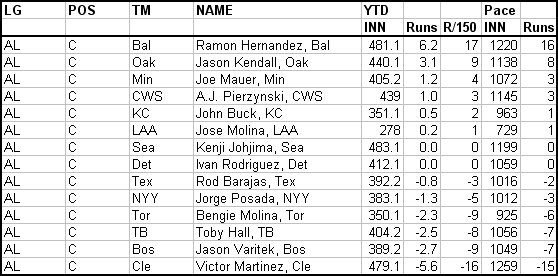 Catcher's defense is not based on ZR, but on a bunch of factors like SB, CS, PB, etc., Jorge Posada's defense was also better earlier in the season. It could be regression or a manifestation of his hamstring injury.




Johnny Damon's been very solid defensively so far, much better than he was last year (around -15).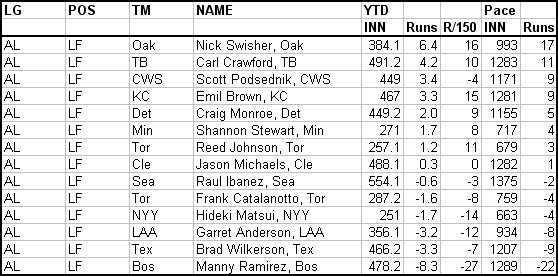 I miss Hideki Matsui's bat. I don't much miss his defense.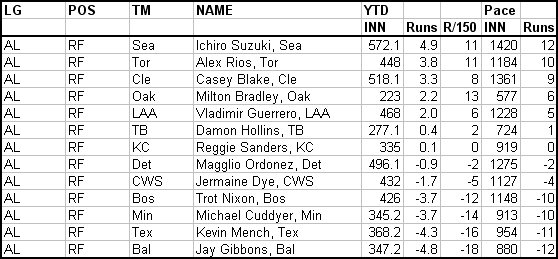 Bernie Williams missed the 200 inning cut off in RF, but he was -4.4 runs in 188.1 innings, which is a -31 R/150 rate.




Take heart Derek Jeter fans. There are three AL SS who are worse defensively.

These defensive stats have some limitations due to the minimal amount of publically available statistics as well as the sample size of 200-500 defensive innings. Also, some people feel that a ZR based stat does not give enough credit to players with very good range, who will often make plays outside of what is typically defined as that defensive position's zone. However, I think it can be a useful thing to look at.
--posted at 1:43 PM by SG / |
---