---
DIPS Worksheets!
---
---
January 2001
April 2003
May 2003
June 2003
July 2003
August 2003
September 2003
October 2003
November 2003
December 2003
January 2004
February 2004
March 2004
April 2004
May 2004
June 2004
July 2004
August 2004
September 2004
October 2004
November 2004
December 2004
January 2005
February 2005
March 2005
April 2005
May 2005
June 2005
July 2005
August 2005
September 2005
October 2005
November 2005
December 2005
January 2006
February 2006
March 2006
April 2006
May 2006
June 2006
July 2006
August 2006
September 2006
October 2006
November 2006
December 2006
January 2007
February 2007
March 2007
April 2007
May 2007
---
LINKS
---
Yankees Sites and Columnists
Nomaas.org
---
General Baseball Sites & Columnists
At Home Plate
Rotoauthority.com
The Book Blog - Playing the Percentages in Baseball(Tango, MGL, Dolphin)
---
Yankees Blogs
Almost Perfect
Baby Bombers
Baseball Mania
Bronx Banter
Bugs and Cranks
Canyon of Heroes
Dugout News
Eephus Pitch
Here Comes Number 27
High and Tight
Lohud Yankees Blog
No Sense Worrying
Pinstripe Potentials
River Ave. Blues
Soft Hands
The Stat Boy of the Empire
Was Watching
Yankees Chick
Yankees Fans in Foreign Lands
Yanks Blog
---
Other Team Blogs
Anaheim Angels All the Way
Bucco Blog
San Francisco Giants Blog
Viva El Birdos
---
Look what people have to say about Larry Mahnken's commentary!
"Larry, can you be any more of a Yankee apologist?.... Just look past your Yankee myopia and try some objectivity."
- Bernal Diaz
"Mr. Mahnken is enlightened."
- cordially, as always,
rm
"Wow, Larry. You've produced 25% of the comments on this thread and said nothing meaningful. That's impressive, even for you."
- Anonymous
"After reading all your postings and daily weblog...I believe you have truly become the Phil Pepe of this generation. Now this is not necessarily a good thing."
- Repoz
"you blog sucks, it reeds as it was written by the queer son of mike lupica and roids clemens. i could write a better column by letting a monkey fuk a typewriter. i dont need no 181 million dollar team to write a blog fukkk the spankeees"
- yan
"i think his followers have a different sexual preference than most men"
- bob
"Boring and predictable."
- No Guru No Method
"Are you the biggest idiot ever?"
- Randal
"I'm not qualified to write for online media, let alone mainstream media."
- Larry Mahnken
---
This site is best viewed with a monitor.
Disclaimer: If you think this is the official website of the New York Yankees, you're an idiot. Go away.
May 19, 2006
---
by SG
The wounded Yankees are heading 8 miles across town to face the much-improved New York Mets this weekend. I can't speak for anyone else, but I HATE inter-league play. I hate everything about it, from watching pitchers bunt or strike out, to all the hype, to how it skews the schedules for the playoff and wild card races. For the first time in a while, the Yankees and Mets seem pretty evenly matched. Here's a little comparison of the two teams so far.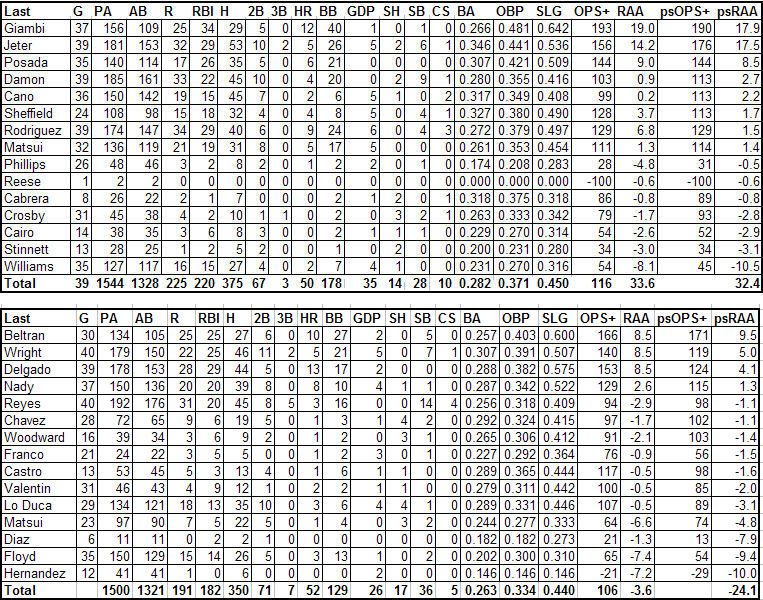 Here, OPS+ is calculated using the following formula:

((Player OBP/lg OBP + Player SLG/lg SLG)-1) x 100

RAA is the runs above the average offensive player in the league. psOPS+ and psRAA are just adjusted to compare against players who play the same position in the league.

One fourth of the way through the season, the Yankees have been the far better offensive team, although they are now missing two key components in Gary Sheffield and Hideki Matsui. With no DH, it would seem like a great time to bench Bernie Williams, but expect him to start all three games, because "he's been there before." The thought of Randy Johnson and his cartilege-less knee batting would scare me more, if I knew he wasn't going to be knocked out of the game before his first plate appearance.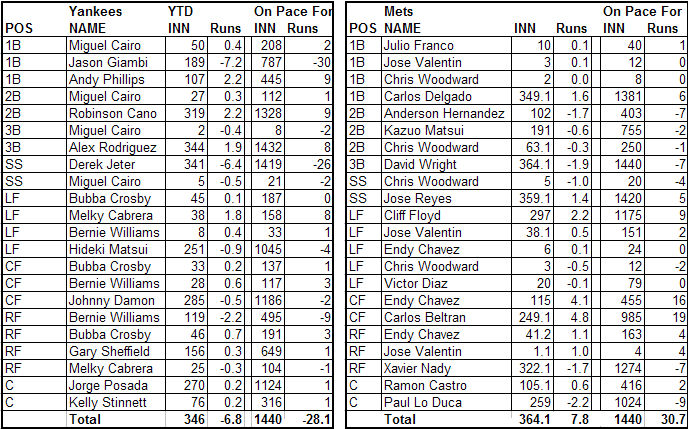 Here, you have the innings played and runs above/below average so far at each position, along with what they are currently on pace for based on current playing time. Obviously, Hideki Matsui's not playing 1045 innings, so adjust these accordingly in your mind.

Regression sucks. After a surprising defensive start to the season, the last few weeks have seen the Yankees move closer to what most projections would have expected. The Mets have been very good defensively so far, particularly in the OF.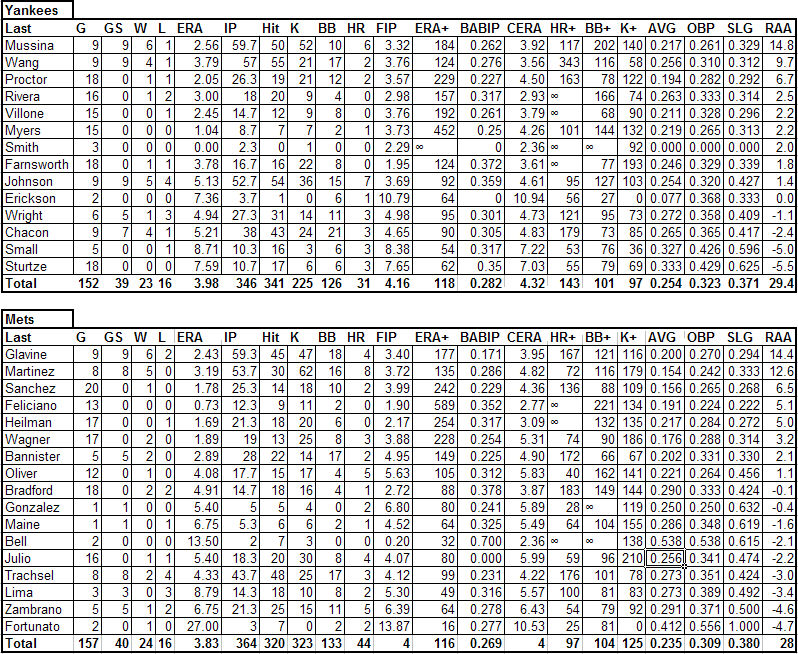 In this chart, ERA+ is what the league ERA in that player's stadium would be divided by the player's actual ERA mutiplied by 100. BB+, HR+, and K+ are calculated similarly, and compare a pitcher's rates of BB, HR, and K per batters faced. All 4 are scaled so that 100 is average, and less than 100 is worse, greater than 100 is better. BABIP is the pitchers batting average allowed on balls hit into play, CERA (also called ERC) is a pitcher's component ERA, and RAA is runs saved above the average pitcher.

The pitching staffs are pretty close so far. The Yankees have done an outstanding job of preventing HRs, but are pretty average in walks allowed and Ks. The Mets are allowing HRs at a slightly higher pace than the league average (Lima Time!) but are making up for it by walking fewer batter and striking out a ton more batters than the league averages.

And here are your matchups for the weekend:

Friday
R. Johnson (5-4, 5.13) vs. J. Gonzalez (0-0, 5.40)

I have no faith in The Big Useless anymore, even against Jeremi Gonzalez

Saturday
M. Mussina (6-1, 2.56) vs. P. Martínez (5-0, 3.19)

This one could be a treat.

Sunday
S. Chacón (4-1, 5.21) vs. T. Glavine (6-2, 2.43)

Chacon has a 'Resolving Hematoma', which is a fancy way of saying a really nasty bruise, so he may not make this start. If he doesn't, I guess Aaron Small will get the call.

I just want the Yankees to win one out of three. I don't expect much offense until Sheffield comes back. Take away the DH and put Bernie plus a pitcher in three games, and I'd peg the over/under on weekend runs at about 3. Maybe they'll surprise me.

UPDATE:Bubba to the DL, Mitch Jones to the majors

Flushing, NY -- (Sports Network) - The New York Yankees placed outfielder Bubba Crosby on the 15-day disabled list with a strained right hamstring on Friday.

The 29-year-old Crosby, who had seen his playing time increase as of late due to the injuries of outfielders Gary Sheffield and Hideki Matsui, was batting .263 in 31 games this season for the Yankees. This will be his first career stint on the DL.

To take his spot on the 25-man roster, New York purchased the contract of outfielder Mitch Jones from Triple-A Columbus.

Thanks to yup for the heads-up.
--posted at 10:27 AM by SG / |
---