---
DIPS Worksheets!
---
---
January 2001
April 2003
May 2003
June 2003
July 2003
August 2003
September 2003
October 2003
November 2003
December 2003
January 2004
February 2004
March 2004
April 2004
May 2004
June 2004
July 2004
August 2004
September 2004
October 2004
November 2004
December 2004
January 2005
February 2005
March 2005
April 2005
May 2005
June 2005
July 2005
August 2005
September 2005
October 2005
November 2005
December 2005
January 2006
February 2006
March 2006
April 2006
May 2006
June 2006
July 2006
August 2006
September 2006
October 2006
November 2006
December 2006
January 2007
February 2007
March 2007
April 2007
May 2007
---
LINKS
---
Yankees Sites and Columnists
Nomaas.org
---
General Baseball Sites & Columnists
At Home Plate
Rotoauthority.com
The Book Blog - Playing the Percentages in Baseball(Tango, MGL, Dolphin)
---
Yankees Blogs
Almost Perfect
Baby Bombers
Baseball Mania
Bronx Banter
Bugs and Cranks
Canyon of Heroes
Dugout News
Eephus Pitch
Here Comes Number 27
High and Tight
Lohud Yankees Blog
No Sense Worrying
Pinstripe Potentials
River Ave. Blues
Soft Hands
The Stat Boy of the Empire
Was Watching
Yankees Chick
Yankees Fans in Foreign Lands
Yanks Blog
---
Other Team Blogs
Anaheim Angels All the Way
Bucco Blog
San Francisco Giants Blog
Viva El Birdos
---
Look what people have to say about Larry Mahnken's commentary!
"Larry, can you be any more of a Yankee apologist?.... Just look past your Yankee myopia and try some objectivity."
- Bernal Diaz
"Mr. Mahnken is enlightened."
- cordially, as always,
rm
"Wow, Larry. You've produced 25% of the comments on this thread and said nothing meaningful. That's impressive, even for you."
- Anonymous
"After reading all your postings and daily weblog...I believe you have truly become the Phil Pepe of this generation. Now this is not necessarily a good thing."
- Repoz
"you blog sucks, it reeds as it was written by the queer son of mike lupica and roids clemens. i could write a better column by letting a monkey fuk a typewriter. i dont need no 181 million dollar team to write a blog fukkk the spankeees"
- yan
"i think his followers have a different sexual preference than most men"
- bob
"Boring and predictable."
- No Guru No Method
"Are you the biggest idiot ever?"
- Randal
"I'm not qualified to write for online media, let alone mainstream media."
- Larry Mahnken
---
This site is best viewed with a monitor.
Disclaimer: If you think this is the official website of the New York Yankees, you're an idiot. Go away.
April 15, 2006
---
by SG
Unfortunately for the Yankees, their series with the Royals had to end eventually. Scott Baker, Juan Rincon, and Jesse Crain held the Yankees to four hits and one run and the Yankees wasted a good start by Mike Mussina in falling to the Twins, 5-1. Thanks to loyal reader cutter for the title suggestion, which is something that will bear watching all season. Will the Yankees pound bad pitching and struggle more than expected against decent pitching?

The good news was that Moose again looked solid, going 6.2 innings and allowing 3 runs. The bad news was the Yankees again failed to win a game in which they scored fewer than 9 runs.

An eighth-inning rally fell short when Bernie Williams grounded into a double play after Jorge Posada and Robinson Cano had reached. Bernie was in RF yesterday, and actually looked to have decent range out there, but he appears to have lost all his power at this point in his career, now hitting .294/.333/.324, with just one XBH so far. It may also just be my perception, but Bernie is no longer as patient as he used to be and seems to hack earlier in the count than he used to. His P/PA so far this season is 3.49, not much lower than last year, but below his 3.74 career average.

I find it positively idiotic that the DH spot does not have a better option than what is on hand. Apparently, the Yankees agree, and are considering taking a flier on Carlos Peña. Peña was at one time one of the top prospects in baseball, but has disapponted in his time in Detroit. He's a career .243/.330/.459 hitter, although he has played in a pitchers' park for most of his career, which translates to an OPS+ of 109.

The Yankees want Peña since they are apparently concerned about Giambi's defense at first, so I think a defensive comparison is in order. The first column are innings played, second are actual runs using the Zone Rating method I have been using, and the last column is the pro-rated value over 150 games. The averages are using a weighted average.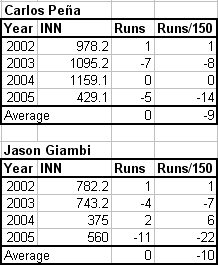 Doesn't seem like much of an upgrade. I always remembered Peña being highly regarded defensively, so I checked out last year's scouting report.



Hitting

Peña does not have a quick bat. There were times last season when he could not handle even an average major league fastball thrown over the heart of the plate. But throw him an offspeed pitch without much on it, and Peña will murder it. He has good power and will drive the ball out of the park to right field. Peña also has a pretty good concept of the strike zone. He does not swing at many bad pitches and will draw walks. However, he swings through a lot of fastballs most power hitters drive with authority.


Baserunning & Defense

When the Tigers acquired Peña from Oakland early in the 2002 season, one of the major reasons was his fielding. Supposedly he was a great fielder. It has not turned out that way. In 2003, he was awful defensively. He made 13 errors, often on routine plays. Last season, Peña was better in the field, cutting his errors to six and making far fewer mental mistakes. Although he still has a ways to go to match his advance billing defensively, Peña was more than adequate last season. He has below-average speed, but seems to be making better decisions on the bases.


Not a scouting report that encourages much hope, on either the offensive or defensive side.

If Joe Torre is insistent on playing Miguel Cairo over Andy Phillips when Giambi is not at first, then Peña does make a lot of sense, as he is a significantly better offensive player than Miggy. Actually, if it's true that Phillips can't hit breaking balls, a pseudo platoon of Peña and Phillips could be useful, with Peña playing against junkballers and Phillips against harder throwers. That would require freeing up a roster spot, which the Yankees could do by getting rid of one of their fifty pitchers. The other concern is Jason Giambi's offense when he DHs, but it's going to have to be something Giambi adjusts to. As he gets older, he can't be expected to play 150 games at first.

Joe Torre was obviously right that Tanyon Sturtze and Kyle Farnsworth are interchangeable.



                  W- L    ERA    BA   G GS CG GF SH SV   IP    H   R  ER HR  BB  SO
Farnsworth        0- 0   7.36  .267   5  0  0  1  0  0   3.2   4   3   3  0   3   2
Sturtze           0- 0   7.36  .313   6  0  0  0  0  0   3.2   5   3   3  2   2   3



Unfortunately, this probably means the continued use of Sturtze in high-leverage spots, and the potential burial of Farnsworth, who has far more talent and a better track record. At this point, I've liked what I've seen out of Scott Proctor and think he is probably better than Sturtze too. Unfortunately, he will likely be yo-yoed between Columbus and the Bronx all year, as he is cursed with a remaining option.

Brian Cashman will have to be pro-active in regards to Sturtze. If at the end of the month he has not shown any ability to contribute, he needs to take Torre's toy away before it really ends up costing the team.

I'm looking forward to tonight's Jaret Wright vs. Johan Santana matchup about as much as I'm looking forward to my eventual first prostate exam. Let's hope for the unexpected and unlikely.

Update: Yankee sign Peña, Colome


The Yankees signed free-agent 1B Carlos Pena and free-agent RHP Jesus Colome to minor-league deals today and sent them to extended spring training in Tampa. They will eventually be assigned to Class AAA Columbus.

Pena was .235/.325/.477 with 18 homers and 44 RBI for Detroit last season but was released near the end of spring training. If he gets called up, he has a $1.25 million deal.

Colome was 2-3 with a 4.57 ERA for Tampa. Because he had a major-league deal when he was released, the Yankees would owe him only the pro-rated minimum if he gets called up.

"We'll see what these guys can do. It's always good to have inventory," GM Brian Cashman said a few minutes ago. "There's not much risk involved."

Cashman said the Yankees liked Pena's defensive ability and power potential. Colome, he said, has a "big arm."

"Sometimes things click with players and they can help you," said Cashman, who struck gold with Aaron Small and Shawn Chacon last season. "It's worth trying."



Thanks to Johan.

I already discussed Peña. As for Colome, he's a talented arm who hasn't done much yet. The scouting report:


Colome throws his fastball regularly in the 97-100 MPH range. What has made him more effective is the ability to throw his slider and changeup and, just as importantly, convincing him to trust the offspeed pitches in key situations. He also has experimented with some different arm slots.


Colome's got decent K rates, but he's rather tater-iffic and wild. He's probably better than Sturtze anyway.
--posted at 9:32 AM by SG / |
---