---
DIPS Worksheets!
---
---
January 2001
April 2003
May 2003
June 2003
July 2003
August 2003
September 2003
October 2003
November 2003
December 2003
January 2004
February 2004
March 2004
April 2004
May 2004
June 2004
July 2004
August 2004
September 2004
October 2004
November 2004
December 2004
January 2005
February 2005
March 2005
April 2005
May 2005
June 2005
July 2005
August 2005
September 2005
October 2005
November 2005
December 2005
January 2006
February 2006
March 2006
April 2006
May 2006
June 2006
July 2006
August 2006
September 2006
October 2006
November 2006
December 2006
January 2007
February 2007
March 2007
April 2007
May 2007
---
LINKS
---
Yankees Sites and Columnists
Nomaas.org
---
General Baseball Sites & Columnists
At Home Plate
Rotoauthority.com
The Book Blog - Playing the Percentages in Baseball(Tango, MGL, Dolphin)
---
Yankees Blogs
Almost Perfect
Baby Bombers
Baseball Mania
Bronx Banter
Bugs and Cranks
Canyon of Heroes
Dugout News
Eephus Pitch
Here Comes Number 27
High and Tight
Lohud Yankees Blog
No Sense Worrying
Pinstripe Potentials
River Ave. Blues
Soft Hands
The Stat Boy of the Empire
Was Watching
Yankees Chick
Yankees Fans in Foreign Lands
Yanks Blog
---
Other Team Blogs
Anaheim Angels All the Way
Bucco Blog
San Francisco Giants Blog
Viva El Birdos
---
Look what people have to say about Larry Mahnken's commentary!
"Larry, can you be any more of a Yankee apologist?.... Just look past your Yankee myopia and try some objectivity."
- Bernal Diaz
"Mr. Mahnken is enlightened."
- cordially, as always,
rm
"Wow, Larry. You've produced 25% of the comments on this thread and said nothing meaningful. That's impressive, even for you."
- Anonymous
"After reading all your postings and daily weblog...I believe you have truly become the Phil Pepe of this generation. Now this is not necessarily a good thing."
- Repoz
"you blog sucks, it reeds as it was written by the queer son of mike lupica and roids clemens. i could write a better column by letting a monkey fuk a typewriter. i dont need no 181 million dollar team to write a blog fukkk the spankeees"
- yan
"i think his followers have a different sexual preference than most men"
- bob
"Boring and predictable."
- No Guru No Method
"Are you the biggest idiot ever?"
- Randal
"I'm not qualified to write for online media, let alone mainstream media."
- Larry Mahnken
---
This site is best viewed with a monitor.
Disclaimer: If you think this is the official website of the New York Yankees, you're an idiot. Go away.
March 2, 2006
---
by SG
All off-season, I tried to tell myself that the Yankees would not be stupid and sign Johnny Damon. A lot of this was based on his original demands for a seven year contract, but most of it was just an emotional response to one of the key faces of the Red Sox coming to the Yankees.

What's done is done, and although I'm still having some trouble accepting Damon as a Yankee, it was a good move for 2006.

For comparison's sake, here are Bernie Williams's defensive ratings from 2001-2005 using the ZR conversion method that I described in my last entry. Again, these are pro-rated over 150 games.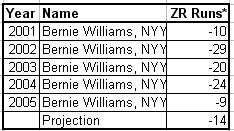 For all my fond memories of Bernie, his defense in center over the last five years will not be a part of them. The interesting thing was his apparent improvement last year. It's probably the smaller sample size, but I can't help but think that if he isn't playing in the OF every day he has a little more spring in his step. The early stories out of spring training seem to indicate Bernie getting some time in RF to spell Gary Sheffield, who was worse than Bernie last year. As bad as Bernie's arm is, Sheffield's arm was actually rated as worth -2 runs in 2005. Even if Bernie's arm is worth -5 in limited playing time, he could very well make up for that with greater field coverage. I am also still holding out hope that part-time duty will help Bernie hit better. A lot of this is wishful thinking on my part, but Bernie's one of my favorite players and I'd love to see him go out as a useful role player.

With Bernie's poor offense and defense last year, he was eventually moved into a part-time role. Unfortunately, his playing time was cut for mostly Tony Womack. Taking away Womack's time as a 2B and combining his "contributions" with Bernie in CF made the Yankees 2005 CF worth -2.4 WARP. All at the bargain price of $15 million. For the purpose of this exercise I've credited Matsui's time in CF to LF and Womack's in LF to CF.

In 2006, things look to be a little different now that Damon is in the fold. First, a look at Damon's defense from 2001-2005.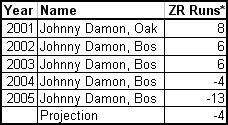 Not a particularly encouraging defensive year last year, although his past performance gives some hope for a rebound. Damon's defensive projection is -4 next year, which, while not great, is about a 10 run upgrade over what the Yankees got last year on defense. Of course, Damon was also signed for his offense.





ZiPS predicts a .292/.363/.421 line from Damon next year, with 13 HRs. This would make him worth 25 RARP (offensive runs over a replacement center fielder).

Marcel says .292/.352/.430. A little less OBP, a little more SLG, and a decrease in playing time, meaning Damon would be worth 19 RARP.

PECOTA says Damon will be worth 20 RARP.

Combining his 20-25 RARP offense with his -4 FRAA defense makes Damon a 2-3 WARP player. I'll split the difference, and assume he'll be worth in the neighborhood of 2.5 WARP. This makes CF close to a 5 win upgrade relative to 2005.

When you look at in those terms, the contract really doesn't seem too bad, at least in 2006. Damon may be overpaid relative to his value compared to the league, but I am adament in the belief that players are worth different amounts to different teams. In this instance, with no viable options on the farm right now, the Yankees paid for a 5 win upgrade.

Hopefully he can stay healthy, play close to average defense, and we can forget from whence he came.

Update: It looks like Sam Horn has a new sponsor on Baseball Reference.
--posted at 12:15 AM by SG / |
---