---
DIPS Worksheets!
---
---
January 2001
April 2003
May 2003
June 2003
July 2003
August 2003
September 2003
October 2003
November 2003
December 2003
January 2004
February 2004
March 2004
April 2004
May 2004
June 2004
July 2004
August 2004
September 2004
October 2004
November 2004
December 2004
January 2005
February 2005
March 2005
April 2005
May 2005
June 2005
July 2005
August 2005
September 2005
October 2005
November 2005
December 2005
January 2006
February 2006
March 2006
April 2006
May 2006
June 2006
July 2006
August 2006
September 2006
October 2006
November 2006
December 2006
January 2007
February 2007
March 2007
April 2007
May 2007
---
LINKS
---
Yankees Sites and Columnists
Nomaas.org
---
General Baseball Sites & Columnists
At Home Plate
Rotoauthority.com
The Book Blog - Playing the Percentages in Baseball(Tango, MGL, Dolphin)
---
Yankees Blogs
Almost Perfect
Baby Bombers
Baseball Mania
Bronx Banter
Bugs and Cranks
Canyon of Heroes
Dugout News
Eephus Pitch
Here Comes Number 27
High and Tight
Lohud Yankees Blog
No Sense Worrying
Pinstripe Potentials
River Ave. Blues
Soft Hands
The Stat Boy of the Empire
Was Watching
Yankees Chick
Yankees Fans in Foreign Lands
Yanks Blog
---
Other Team Blogs
Anaheim Angels All the Way
Bucco Blog
San Francisco Giants Blog
Viva El Birdos
---
Look what people have to say about Larry Mahnken's commentary!
"Larry, can you be any more of a Yankee apologist?.... Just look past your Yankee myopia and try some objectivity."
- Bernal Diaz
"Mr. Mahnken is enlightened."
- cordially, as always,
rm
"Wow, Larry. You've produced 25% of the comments on this thread and said nothing meaningful. That's impressive, even for you."
- Anonymous
"After reading all your postings and daily weblog...I believe you have truly become the Phil Pepe of this generation. Now this is not necessarily a good thing."
- Repoz
"you blog sucks, it reeds as it was written by the queer son of mike lupica and roids clemens. i could write a better column by letting a monkey fuk a typewriter. i dont need no 181 million dollar team to write a blog fukkk the spankeees"
- yan
"i think his followers have a different sexual preference than most men"
- bob
"Boring and predictable."
- No Guru No Method
"Are you the biggest idiot ever?"
- Randal
"I'm not qualified to write for online media, let alone mainstream media."
- Larry Mahnken
---
This site is best viewed with a monitor.
Disclaimer: If you think this is the official website of the New York Yankees, you're an idiot. Go away.
September 5, 2003
---
by Larry Mahnken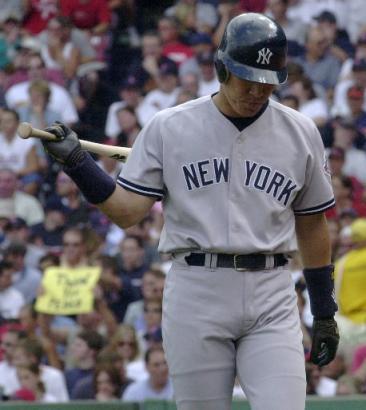 The Yankees beat the Blue Jays last night on the strength of another strong start from Jose Contreras, while Alfonso Soriano and Karim Garcia provided the runs for the slumping Yankees' offense. The Yankees' offensive impotence has been caused in part by facing quality pitchers several times in the last two weeks, but is mainly caused by the sudden lack of productivity by the middle of their lineup. Sure, there are excuses, Bernie Williams is still recovering from knee surgery; Jason Giambi is suffering from an injured knee that will need surgery, and he also bruised his hand last week, while Hideki Matsui is struggling with...gravity. I don't know why Matsui suddenly turned into a ground ball hitter--only Ichiro! has hit more (261-259, and Ichiro! has hit more fly balls), but he's had the whole season to make adjustments to Major League pitching. His only success came against National League pitchers in June and early July, his performance the rest of the season has turned him into a bottom of the order hitter. Of course, having been in the middle of the order all season, he's collected an enormous number of RBI, which will keep him in the middle of the order, and might win him the Rookie of the Year.

Several players have picked up their production since mid-August, which has made up somewhat for the slumps by the middle of the lineup. Soriano his hitting .300 with power and a few walks in the last three weeks, and Karim Garcia is hitting .400 with 3 HRs in that time. Aaron Boone hasn't been particularly good, but he's hit at about his normal level since the home run, and has pulled his numbers up from being unbelievably bad to almost believably bad. Nick Johnson has finally gotten Joe Torre's attention and his now firmly entrenched atop the lineup, where he should stay. And Jorge Posada had his first productive August since 2000, posting a .995 OPS and getting his name thrown around as an MVP candidate.

sjohnny fired off an email to Rob Neyer asking him to support the "Posada for MVP" movement ("If not A-Rod, Why not Posada?" is their motto). I doubt Rob will take up the cause, he's more likely to write columns arguing why A-Rod should win MVP than supporting the most deserving candidate who meets the ridiculous standards of the AL voters.

And the standards are ridiculous. What a writer thinks value means is irrelevant to how they should be voting, as Baseball Prospectus 2003 pointed out:
The most frustrating thing is that, for all those writers who are tempted to engage in Clintonian meaning-twisting to justify a vote for their pet player, the BBWAA spells it out: the instructions sent to all MVP voters state that "value" is equivalent to "strength of [a player's] offense and defense."
The only thing up for interpretation is whether his value is absolute or compared to his position's replacement level. Either way, A-Rod is far and away the MVP of the American League, and he should be unanimous. Of course, I don't expect him to get a single first place vote, because he played for a last place team, which as you can see from the above quote, is what defines value. Oh wait, it doesn't.

Anyway, if I had a vote, this would be my ballot:
1) Alex Rodriguez
2) Carlos Delgado
3) Esteban Loaiza
4) Bret Boone
5) Jorge Posada
6) Tim Hudson
7) Nomar Garciaparra
8) Jason Giambi
9) Frank Thomas
10) Manny Ramirez

I figured value by looking at EqA, VORP, OPS, ERA and Win Shares. You can quibble with my selections, they're not final, and they don't count for anything except the Internet Baseball Awards next month. However, lets play a game. Let's pretend that I'm a voting member of the BBWAA, and further, that I'm a mediot. Don't try this at home kids, it's difficult and dangerous, and I'm risking permanent brain damage.

First things first is to put a couple of other names on the list of contenders, Ichiro! and Garret Anderson, who has a lot of RBI, which we voters love.

Alex Rodriguez is right out, of course. The Rangers are in last place with Rodriguez, and they would be in last without him, so his performance has no actual value. Plus, he's actually the reason that the Rangers are in last, because if they didn't spend $25 million on him, they could have spent it on other players who wouldn't actually improve the Rangers any, but at least they wouldn't be as rich. So, unless you have a truly legendary season and there's nobody else we like, you're not going to win the MVP playing on a last place team. Take a seat, A-Rod. You, too Garret, your RBI don't make up for the Angels sucking almost as much as the Rangers.

The other big rule is that pitchers don't win the MVP, because they have their own award, and they only play every fifth day. Sure, pitchers can have more impact on the outcome of a game than any other player on the field, but without actually putting any real thought into it, we've decided that it doesn't balance out. Of course, just like with bad teams, if you have a truly awesome season, like winning a bunch of games or entering with a lead in the ninth inning and not blowing it 50 times, and there's nobody else we like, then maybe we'll give it to you. But there's legitimate candidates on the offensive side this year, and nobody is blowing us away on the mound, so Loaiza and Hudson are gone, too.

Next on the list is Carlos Delgado. Carlos already has one strike against him in that his team is a .500 team. His 97 RBI in the first half made him a strong contender for MVP, but as the team faded, he stopped driving in RBI, too, and only has 26 since the break. The fact that he only hits .264 on the road seals the deal, and he's not a good enough MVP for us, either. Adios, Carlos.

Nomar Garciaparra has been awesome at home, crap on the road. That should be enough to disqualify him--an MVP needs to get it done everywhere. He's also been very streaky, and was most productive in May and June. An MVP needs to get the job done in August and September. No more Nomar.

No more Manny Ramirez, either, because he left his room when he was sick, but not to go to the ballpark to see a doctor. And he didn't look sick when I saw him, so that means he wasn't really sick. Which makes him not valuable.

Giambi gets the boot, too, because his streaky performances have made him very valuable when he's hot, and not so much when he's cold. He's batted under .250 three months of the season, and under .210 in two. His .250 batting average leaves a bad taste in our mouths, and if that wasn't enough, he plays DH almost half the time. And if we didn't like Giambi playing DH half the time, we'll hate Frank Thomas DHing all the time. He's also batting .266, and his performance has been up and down all year. So no Giambino and no Big Hurt.

Which leaves us with three candidates: Ichiro!, Bret Boone, and Jorge Posada.

Ichiro! is a truly special player, who helps his team in so many ways. He hits for high average, especially with runners in scoring position, steals bases, has a cannon arm, and is a great defensive player all-around. Plus, like Ty Cobb, he can hit a home run when he wants to, which makes him that much more valuable--not that he needed to be.

Okay, okay, I admit it, I can't justify a vote for Ichiro! in any way. Maybe if I lobotomized myself with a salad fork, I could think down to the level of Jay Mariotti, but it's simply not worth it to me. It would have been easier when the Mariners were actually in the playoffs and Ichiro! was still leading the AL in batting average, but now...I think some sportswriters support Ichiro! for MVP just to show how you don't actually have to know anything about baseball to write about baseball.

So really, it's two, Boone and Jorge. Boone is a great candidate, he's put up fantastic offensive numbers, and he plays a tough defensive position exceptionally well. His numbers: .293, 32, 104 aren't park-inflated, either. Posada is similar, with great numbers that aren't park-inflated, playing at a tough position to get offense from, and he'll probably break 30 HRs and 100 RBI, too. His defense isn't very good, though (though he does rank highly in Win Shares...I mean...what are Win Shares?).

However, some other things stack up in Posada's favor:
Boone has hit .281/9/33 in 217 ABs against AL contenders--Posada is .306/10/30 in 147 ABs
Boone has hit .264/0/6 against Oakland--Posada is .373/5/10 against Boston
Boone has hit .251/8/28 in the second half--Posada .326/10/28

Throw in the fact that Posada has walked a lot more than Boone, and you've got your MVP, Jorge Posada.

Okay, so maybe the voters won't think exactly that way, but you can conclude that Posada is MVP through a process of elimination that might appeal to voters. They probably would be turned off by his low batting average (.273), but if he gets in up into the .290 range, can can get over 30 HRs and 100 RBI, he might get some first place votes--and not be an unworthy non-A-Rod MVP.

Now, if you'll excuse me, I have to go and see a neurologist, as well as go to Blogger headquarters and administer a beatdown for screwing up my posts all day.
--posted at 12:30 PM by Larry Mahnken / |
---