by Larry Mahnken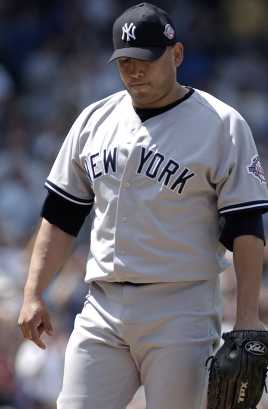 There is no further proof needed that pitcher wins and losses are useless statistics than the result of today's game. Roger Clemens got the loss. Juan Acevedo gets a "blown save". Oooooh.

What the hell was Torre thinking? Clemens apparently was forced to leave the game with an upper respiratory infection after 84 pitches, which is unfortunate, but understandable. He left the game with runners on first and second with one man out, a crucial situation that was likely to decide the outcome of the game. Who does Torre bring in? Jeff Weaver, who was good out of the bullpen last season and has good peripheral stats so far this season? Chris Hammond, who has been inconsistent but reasonably effective? Antonio Osuna, perhaps the Yankees best setup man, who threw only five pitches yesterday? Perhaps he breaks with traditional thinking and puts Mariano Rivera in the game, utilizing his best relief pitcher in the highest leverage situation?

No...he puts Juan Acevedo in the game. Juan Acevedo, who has not only been the Yankees' worst relief pitcher, but their worst relief pitcher
by a lot. This was not just a bad decision, it was an awful, stupid, unjustifiable decision. Managers rarely make decisions that win ballgames--after all, Bob Brenly has a ring--but they sometimes make decisions that lose them. Today, Joe Torre made one of those decisions.

And Acevedo made the most of his opportunity, giving up a three-run home run to Eric "Veteran Presence" Karros on the first pitch to surrender the lead, taking Clemens's 300th away, and handing him an undeserved loss. Acevedo spent the rest of the game sulking in the dugout. He would have done better to pack his things and leave. Why the hell did they send Jason Anderson back down to the minors when they brought in Sierra and not release Acevedo? The Proven Closer™ label is a hard one to ignore for traditional baseball thinkers, I suppose, but Acevedo is about as crappy a pitcher to ever get that label. He's about the suckiest suck in the history of suck.

And now come rumors that the Yankees are looking to trade Brandon Claussen for Ugueth Urbina. Well, he doesn't suck, but they can do so much better, for so much less. This would be a very bad trade.

It wasn't all bad today. Hideki Matsui got two hits, including another Home Run (although he should have struck out earlier in the AB), and really looks to me like he's about to break out big time. With Giambi being out of his slump, this could not be more crucial. The Yankees' offense has run hot and cold, and they need another bat to wake up if they want to minimize those cold spells.

Pettitte vs. Prior tomorrow on ESPN. I'm not feeling too optimistic about this matchup. Can Milwaukee beat Boston one more time this weekend? I doubt it, but if they don't, the Yanks might be right back in second place Monday.
--posted at 7:06 PM by Larry Mahnken / |
---